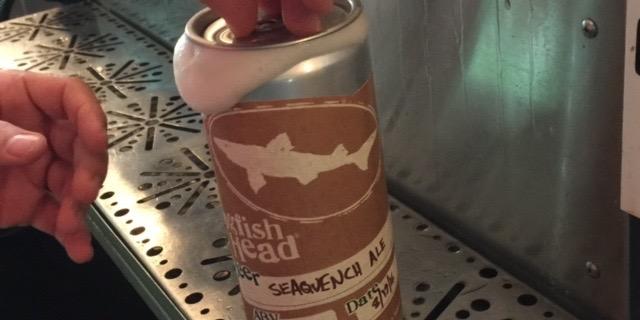 Grab A Crowler To Go!
Tuesday, August 23, 2016
---
Hitting the high seas, the sand or the trail? Let one of our bartenders fill a crowler for you to tote along!
What the heck is a crowler? It's a 32-ounce aluminum can hand-filled with one of our off-centered offerings. You choose the beer, we fill it up - it's that easy!
Why a crowler? There are lots of reasons you'll love a crowler ... maybe you forgot your growler (and don't need to add another to your growler shelf at home)... maybe you are heading off an adventure where glass just isn't practical.... maybe you love the fully recyclable aspect of aluminum. Whatever the reason - a crowler just works!
Here's how to make it happen....
Head to the brewpub & pick from our always-awesome On Tap board. We're happy to fill your crowler with any of our Year Round, Wood Aged or Occassional Release selections - and on extra special days (like the 'Crowler Love Fest' on 8/25/16) we'll let you choose from our limited Brewpub Exclusives too!
Once you choose, we fill your crowler, place the cap on top, take your crowler for a spin to seal the lid! We hand it to you & you head off on your next adventure!
Crowler fills are priced the same as our 32-ounce growler fills, and you pay just $1 for the can.
ps - doing something super fun on your adventure? Let us in on it ... snap a pic with your crowler and share it with us using the #offcentered tag.
Cheers!