First We Feast and Dogfish Head reunite for Season 2 of 'That's Odd, Let's Drink It!'
Monday, August 06, 2018
---
It's hard to believe it's been three years since we teamed up with our pals at First We Feast to bring a whole new series to life that bridged indie craft beer and pop culture into a seemingly entertaining (and educational) experience. After exploring experimental brewing at its weirdest with the likes of Chris Bosh, Ken Marino & Joe Lo Truglio, Mac Miller and more, we're back with another round of craft brewing extremes with 'That's Odd, Let's Drink It' Season 2!
Following Dogfish Head founder & CEO Sam Calagione, 'That's Odd, Let's Drink It' captures his quest to share off-centered and innovative brews with fellow creatives who are known to think (and drink) outside the box. In each episode of the six-part series, Sam leads an entertaining, educational beer tasting with his guests as he takes them on a full-on sensory adventure of sorts where they taste and talk about beer. From dropping taste-bud changing pills to alter the flavor profile of a sour Belgian ale, to dropping science on the brewing process over a beer made with dragon fruit and yumberries, to a hot pepper mixing party extravaganza, Sam and guests explore all that's possible (and impossible) over off-kilter brews.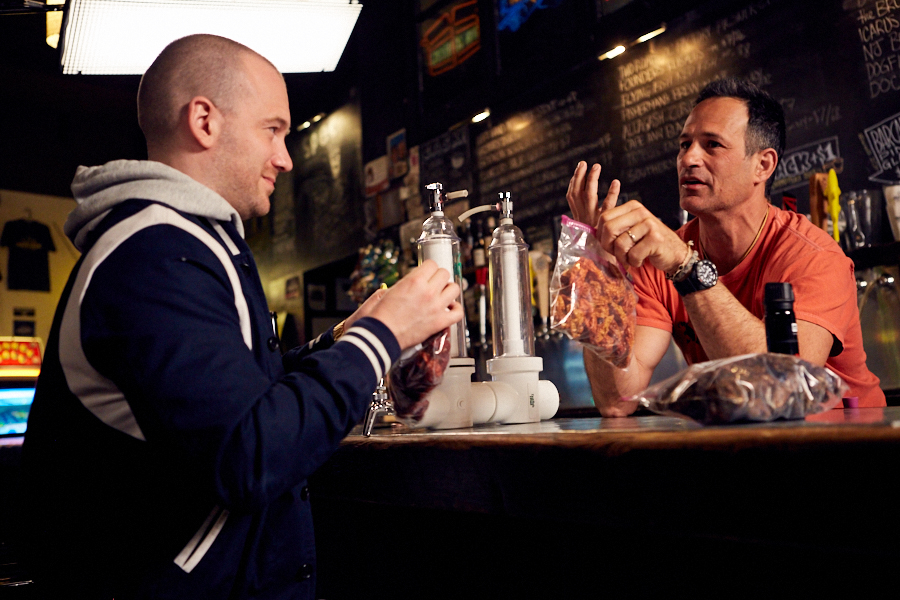 "I find inspiration outside the boundaries of traditional brewing and enjoy guiding fellow beer lovers into the depths of flavor-forward beer experiences," says Sam. "I'm stoked to once again partner with First We Feast for a second season of 'That's Odd Let's Drink It' and team up with some of the most creatively entertaining people in the world – embarking on a journey of culinary ingredient experimentation and limitless imagination."
Premiering Tuesday, Aug. 14, the new season offers a diverse roster of guests including YouTube sensations Rhett & Link, comedian Bert Kreischer, Flaming Lips lead singer Wayne Coyne, musician Julianna Barwick, rapper N.O.R.E. and First We Feast host Sean Evans.
'That's Odd, Let's Drink It' expands First We Feast's slate of hit shows, including viral series 'Hot Ones' and 'The Burger Show,' to delve into the unique and vibrant world of indie craft beer. New episodes air Tuesdays at 11 a.m. ET on First We Feast's YouTube channel!
For more updates, be sure to follow @firstwefeast and @dogfishbeer on Twitter, and subscribe to the FWF YouTube channel! #ThatsOddLetsDrinkIt