Dogfish Head Scratch-Made Hand Sanitizer
Friday, March 20, 2020
---
In a time when our community is in need and we're facing nationwide shortages, we're partnering with the State of Delaware to make more, much-needed hand sanitizer available to the state government.
While we may be known for our off-centered ales, we've been distilling spirits in Delaware since 2002 and have now committed part of our operation to also make hand sanitizer. As we ramp up production, we will be providing bulk shipment of the sanitizer to the state in the weeks to come.
The sanitizer will be sold to the state of Delaware at market price, and 100% of the profits will go to the 'Restaurant Industry E.A.T.s' (Emergency Action Trust) created by the Delaware Restaurant Association to support the many restaurant workers that have been laid off due to the recent state restrictions brought on by the Coronavirus.
"I never thought Dogfish Head would be in the sanitizer business. But this is a time of crisis, and necessity is the mother of invention," says Dogfish Head founder said Sam Calagione. "It is our duty to do what we can to keep as many people safe and healthy in our community."
At this time, the sanitizer inventory is dedicated to fulfilling critical needs of the state, including providing this essential product to health organizations, first responders and more.
We start with a grain neutral spirit that's distilled from beer that our brewers supply to our distillery co-workers. We then take our sanitizer 'spirit' and add hydrogen peroxide, glycerin and water, adhering to recommendations set by the World Health Organization (WHO) and Center for Disease Control (CDC) of at least 80% alcohol in every batch of our scratch-made hand sanitizer.
While our Milton production brewery and distillery remain open, our brewery Tasting Room & Kitchen, Rehoboth brewpub, Chesapeake & Maine and Dogfish Inn are closed until further notice.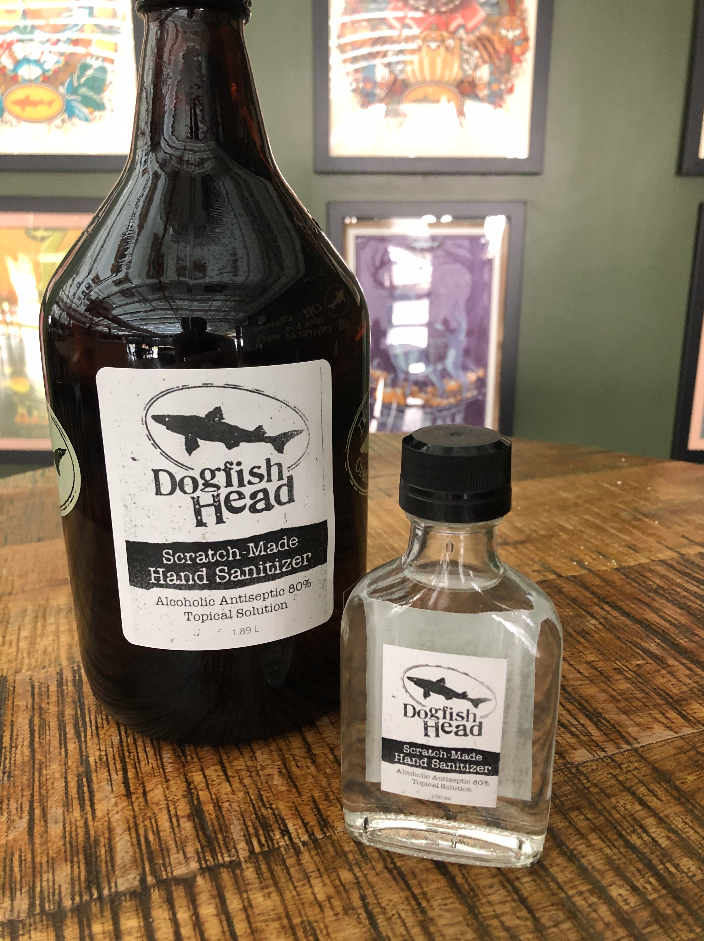 Those wishing to support restaurant workers and donate to the relief fund can make a donation at https://donate.chip-in.us/?nonprofitId=108097. Any amount will be accepted, and a tax-deductible donation letter will be generated upon receipt of all donations.