Dogfish Head & Crosley are going on tour ... all in the name of Record Store Day!
Wednesday, February 01, 2017
---
Music has been a part of Dogfish Head since before Dogfish Head. So it's a natural fit for a brewery that makes 'Analog Beer for the Digital Age' to be the Official Beer of Record Store Day, a celebration of the unique culture of record stores and the special role they play in their communities.
Now in our third year as the Official Beer of Record Store Day, we're bringing you another round of unique Dogfish offerings to help celebrate this special day, including a celebratory brew, compilation vinyl, nationwide events and a 29-city tour!
Beer To Drink Music To '17 - our music-inspired Tropical Blonde brewed with kiwi juice and hibiscus flowers - started shipping this week and will be available throughout our 31-state network. Look for it in your neck of the woods over the coming weeks and keep an eye on the Fish Finder to help you track down this liquid soundtrack.
We've also reunited with our longtime friend Adam Block of Sony Music's Legacy Recordings to curate the 3rd-edition of Music to Drink Beer To 3rd Edition - our Record Store Day limited-edition vinyl compilation. "The enjoyment of a beautiful beer with an amazing album at the same time is an exponentially awesome experience," says Dogfish founder and CEO Sam Calagione. Sam, who's in the beer business and a raging music geek, and Adam, who's in the music business and a raging beer geek, sat down over a few beers and a stash of well-worn vinyl and picked some of their favorite tracks. Featuring a legendary lineup of off-centered musicians, you'll find this compilation is best enjoyed alongside your favorite beer. Music to Drink Beer To 3rd Edition will debut this March, and the vinyl will be released on Record Store Day at retailers across the country.
"I fell in love with music at the same time I fell in love with beer, and in an increasingly digital age, vinyl records provide a deep, tangible connection to music that reverberates with craft brew fans", says Sam. Good tunes and great beer are at the heart of Dogfish as Sam composed a musically inspired series of brews with artists like Miles Davis, Deltron 3030, The Grateful Dead, Pearl Jam and Guided by Voices. "Our brewery has been obsessed with music since the day we opened," Sam says. "And we have enjoyed every opportunity to weave together the art of brewing with our love of music, as often and meaningfully as we can."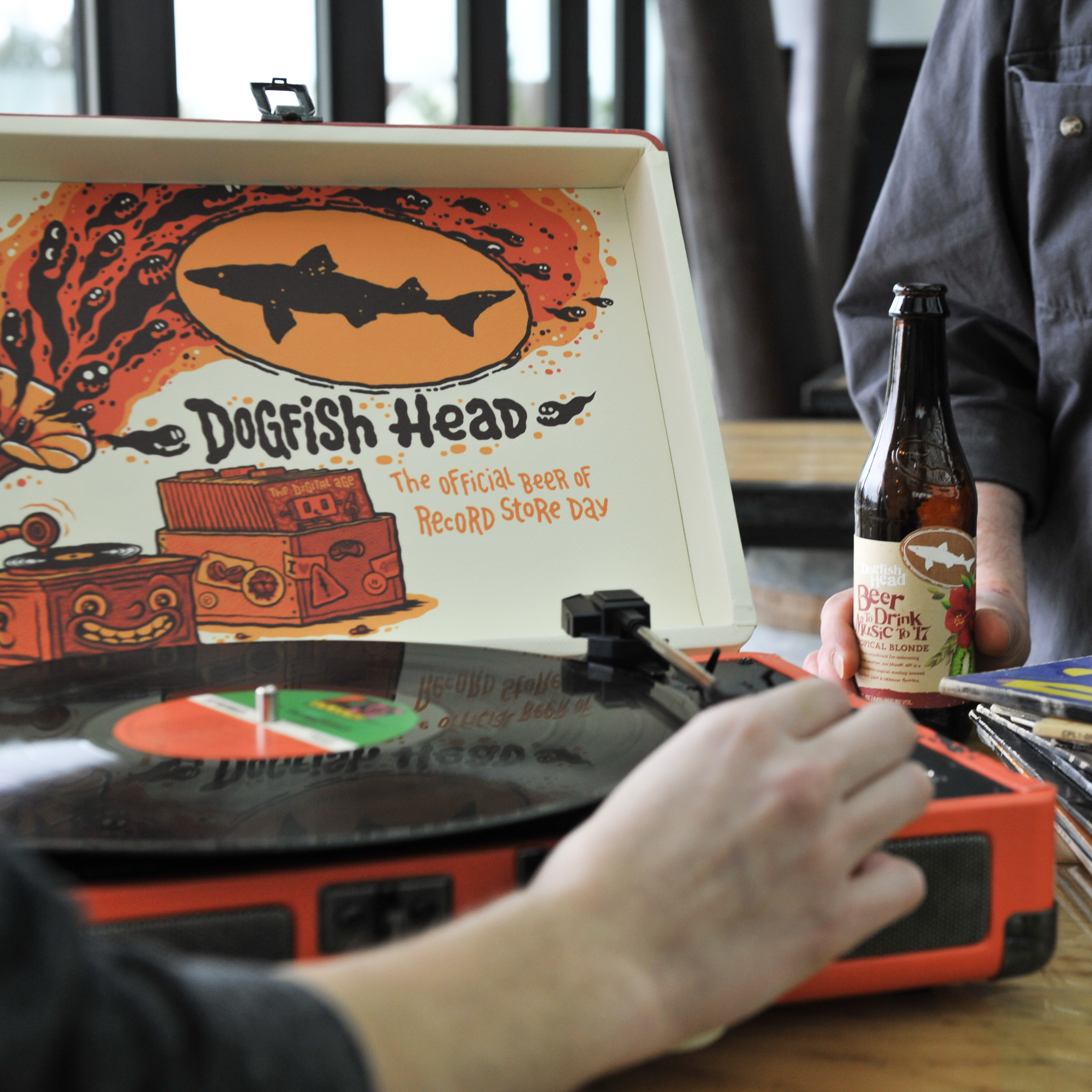 Along with our Record Store Day partnership, we've also teamed up with Crosley Radio, architect of the iconic turntable, to kick off a two-month, 29-city tour. Our rolling gallery celebrating indie music, original artwork, Crosley record players and off-centered beers will be stopping at independent record stores and craft beer bars throughout the country – stop by and check out our listening stations, beer-inspired artwork and sweet Dogfish/Crosley swag!
The Dogfish Head x Crosley Cruiser journey kicks off on Friday, March 3 in Louisville, KY and ends in the City of Brotherly Love on Record Store Day, Saturday, April 22. The full lineup includes: Louisville, KY, Nashville, TN, Indianapolis, IN, Chicago, IL, Madison, WI, Milwaukee, WI, Detroit, MI, Columbus, OH, Cincinnati, OH, Pittsburgh, PA, State College, PA, Buffalo, NY, Syracuse, NY, Wake Field, RI, Somerville, MA, Allston, MA, Boston, MA, New York, NY, Mamaroneck, NY, Long Island City, NY, Washington, D.C., Fairfax, VA, Baltimore, MD, Milton, DE, Newark, DE, Wilmington, DE, Westmont, NJ, Jersey City, NJ, and Philadelphia, PA.
We're stoked for all that we have planned and we hope you'll join us for this most epic music-inspired journey.
For more information about Music To Drink Beer To, Vol. 3, Beer To Drink Music To '17, participating record stores, and destinations on the Dogfish Head x Crosley Cruiser tour, head on over to www.dogfish.com/record-store-day.
#NowSpinning #RSD17 #AnalogBeer