Brewin' up independence 'In Tandem' with Revelation Craft Brewing Company
Thursday, June 20, 2019
---
To celebrate all things independent this Independence Day, we're joining forces with our pals at Revelation Craft Brewing Company to brew two iterations of 'In Tandem' – a special, draft-only collaboration that's releasing on Thursday, July 4. A summer-centric Hefeweizen, In Tandem will be brewed with Sussex County malt and wheat, donated by Proximity Malt in Laurel, Delaware, and local strawberries from Magee Farms in Lewes, Delaware. And what's a collaboration without a tandem bike? Dogfish Head founder Sam Calagione and Revelation founder Patrick Staggs hopped on a tandem bike (starting to see the inspiration behind the name?) and rode to Magee Farms to pick the strawberries themselves. #adorbs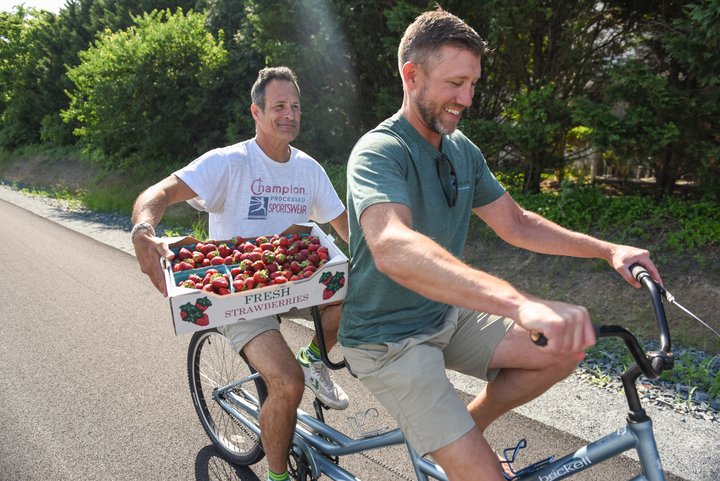 "There's nothing I love more than collaborating with other independent craft brewers to create a delicious beer, or in this case, beers," says Sam. "A liquid tribute to all things independent – independent brewers and breweries, independent businesses, and coastal Delaware's ability to be independent from motorized vehicles to visit the area's many wonders – there is no better day to share In Tandem with local craft beer lovers than on the anniversary of our country's independence. Both Dogfish Head and Revelation are proud supporters of the Brewer's Association seal for independent craft beer, which you'll find on both of our beer packages."
To put our own unique respective twists on this warm weather sipper, we've each added different complementary ingredients to our versions of In Tandem. Our version includes the addition of nutmeg fruit to offer slightly sweet and nutty notes, while Revelation's version contains vanilla and locally-harvested lavender from Lavender Fields in Milton, Delaware, for fragrant floral aromas and flavors.

To encourage folks to 'support local,' each iteration of In Tandem will be served only at our respective Rehoboth locations, ours at Dogfish Head Brewings & Eats (320 Rehoboth Avenue) and Revelation's at its Rehoboth taproom (19841 Central Street). Both locations will open at 10 a.m. on the 4th of July, each kicking off the freedom-filled festivities with the release of 200 (32 oz.) In Tandem-filled browlers*. These limited-edition, plastic, water bottle-shaped growlers fit perfectly into almost any bicycle's drink holder. With Brewings & Eats and Revelation's Rehoboth taproom less than one mile apart, it's the perfect distance to peddle and work up a thirst for an ice-cold glass of In Tandem!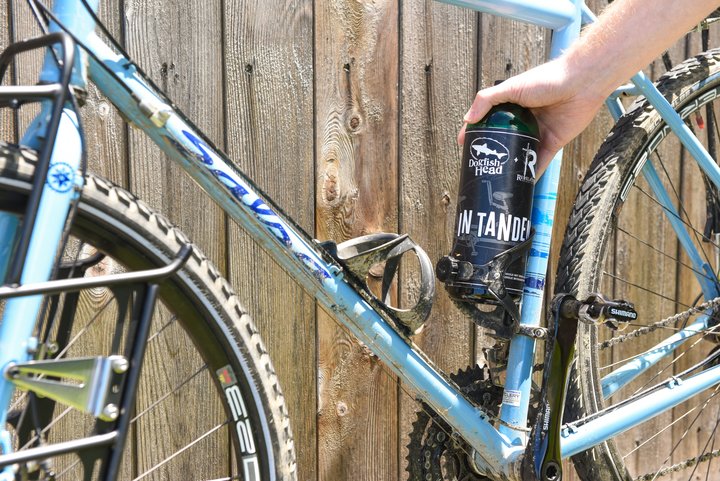 "Collaborations are really fun for the brewers, as we get to break away from all of the demands that come with running a brewery and just geek out to craft something totally new," says Patrick. "For small craft brewers, our independence is an important component of our interdependence on each other to stay successful in our path for growth. Just like pedaling on a tandem bike, if each of us individually gives the effort to fulfill our role, then together we will reach our destination quicker. And now with Revelation and Dogfish locations up and down the bike trail, there are plenty of great destinations for our guests … so get out there on two wheels!"
All profits from browler sales, as well as $1 from every glass of In Tandem sold, will benefit the Rt. 9 Trailhead planned by the Sussex County Land Trust, an area that will mark the halfway point between our Milton brewery and Revelation's Georgetown facility on the Delaware Rails-to-Trails bike path.
*Browlers available only with purchase of In Tandem, while supplies last.