Brace yourselves ... Festina Lente is coming.
Wednesday, November 27, 2019
---
Not too unlike the classic tale Moby Dick, the beer world has a few white whales that break the surface every so often. The most notable difference is that the white whales of beer don't tend to purposefully capsize ships, leaving people with leg prosthesis and a newfound desire for fanatical vengeance … but we digress. These whales cause people to scour message boards with a series of ISOs and FTs.
Only a few of our beers have achieved this white whale status – a designation given by fans and critics alike. Isabelle Proximus – a collaboration between our very own Sam Calagione, Tomme Arthur of The Lost Abbey, Adam Avery from Avery Brewing, Rob Todd at Allagash and Vinnie Cirulzo of Russian River – is one of them. The other … Festina Lente.
Originally brewed back in 2003, Festina Lente was our first adventure into the world of sour and wild ales. Much like all of the other ales we've produced, Festina Lente had (and still has) the same culinary mindset present in the ethos of Dogfish Head. The original release was brewed with 400 pounds of local peaches from Fifer Orchard in central Delaware, aged on oak, then bottle-conditioned in champagne bottles. However, it didn't see the light of day until the Great American Beer Festival in 2006 where it was awarded a bronze medal in the Belgian-style sour ale category.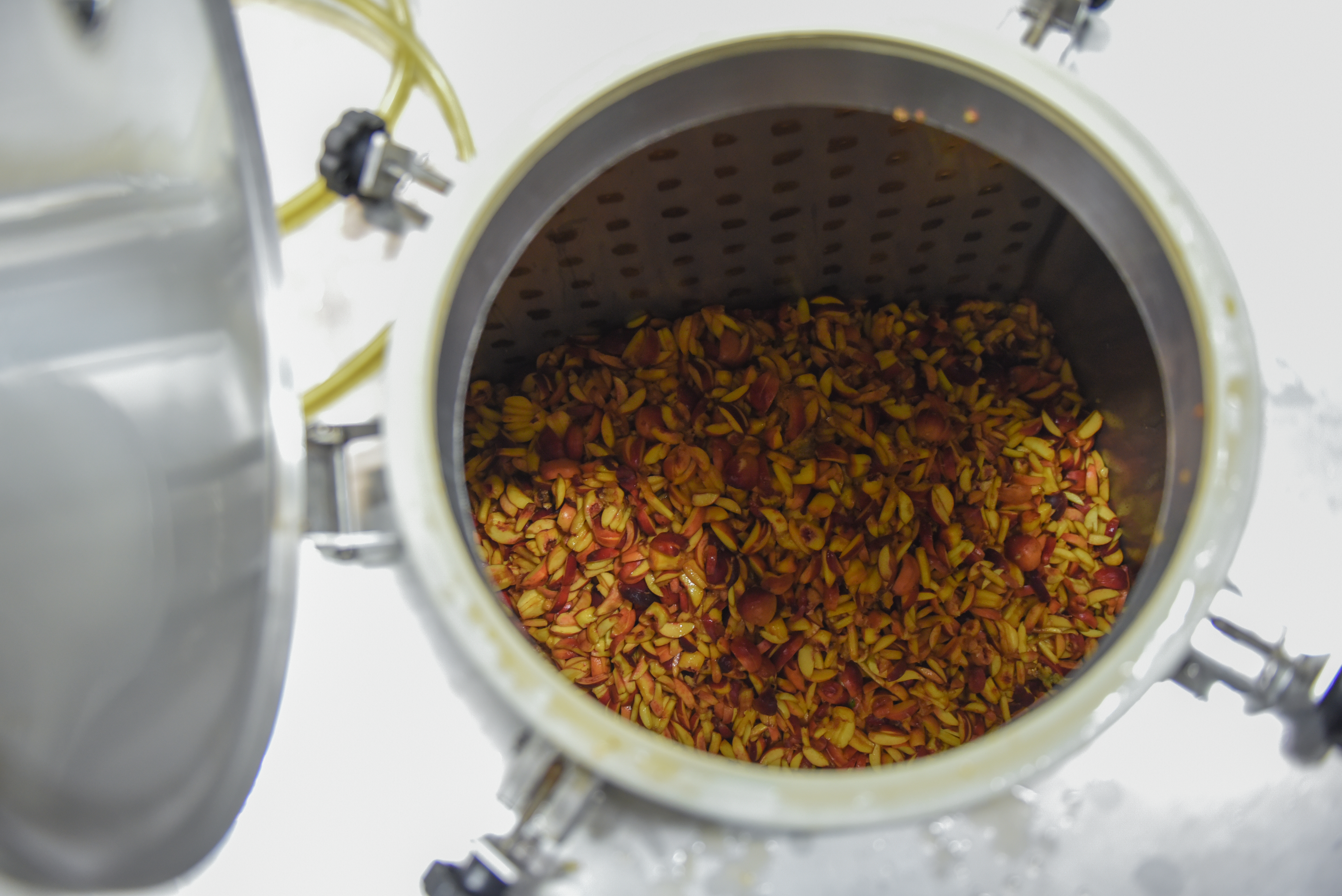 Notice the time difference between brew and release? The name Festina Lente translates into "make haste slowly," and the beer decided to take that adage to heart. A wise man once said, "you can't tell a cat what to do," a thought that applies perfectly when it comes to the Brettanomyces and Lactobacillus used during that initial fermentation. If they aren't ready, who are we to bug them? So they made haste, slowly of course, which ultimately led to a thoughtful and beloved beer.
For this release, our brewers took the same thoughtful approach. Locally grown hops and malt, fermented with both Brettanomyces and Lactobacillus, aged for 18 months in freshly emptied chardonnay barrels, and then finally finished on over 2,700 pounds of fresh Delaware peaches from Fifer's. Yes … 2,700 pounds. The result is a tart and delicate American wild ale with a bright and effervescent carbonation. Perfect to enjoy now, or several years down the road.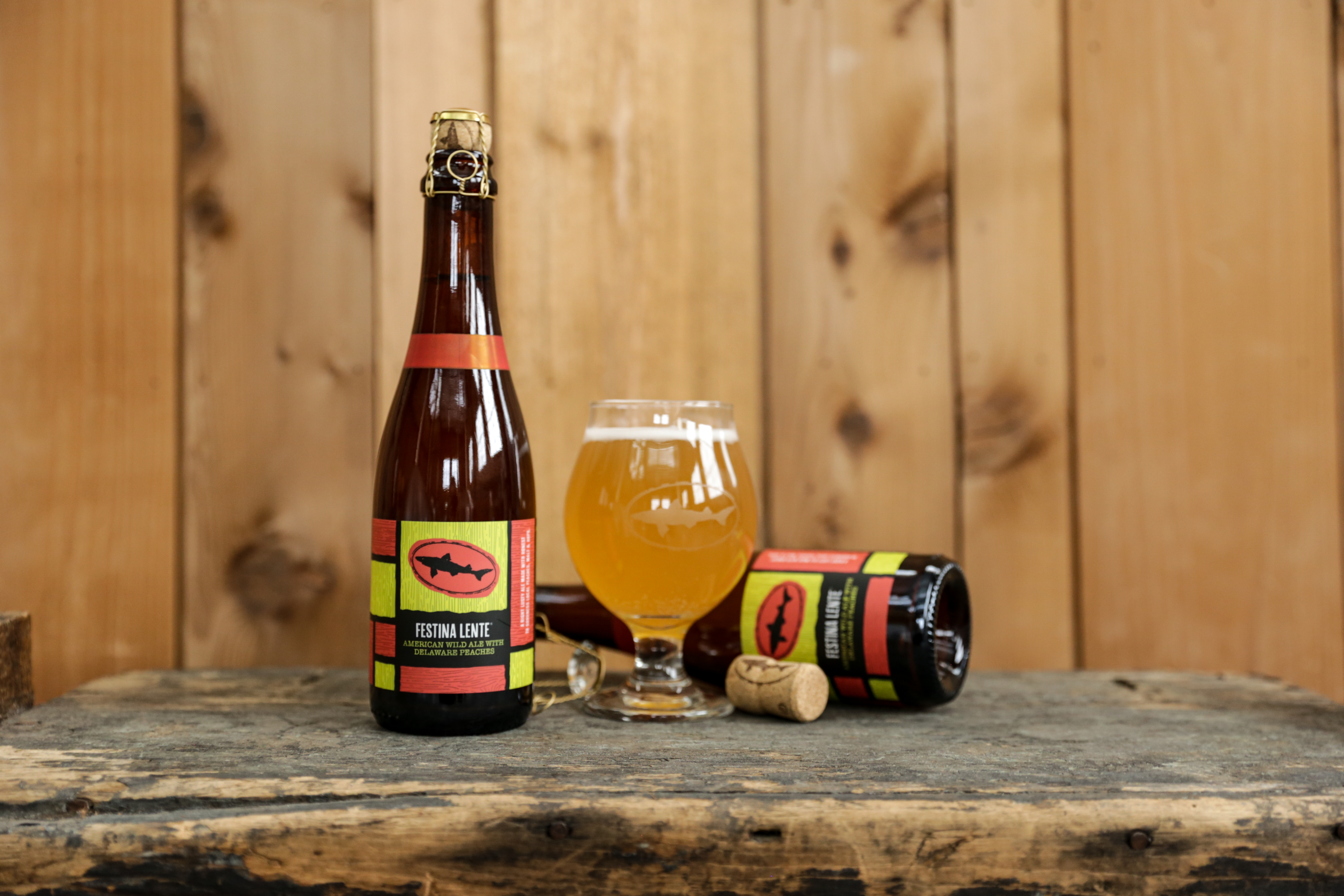 Festina Lente is releasing Saturday, Dec. 14 at our Milton Tasting Room & Kitchen beginning at 11 a.m. We'll have 10,000 bottles up for grabs (our biggest Wooden … it be nice! release yet!), priced at just $10 each. We'll also be distributing a limited amount throughout Delaware, Maryland, Pennsylvania and New Jersey, so be sure to keep an eye on the Fish Finder to help you track some down!
SURPRISE! We have one last Festina Lente trick up our sleeves - we're doing a special raffle during the Dec. 14 release for a chance to purchase a magnum bottle of Festina Lente. Yes ... a magnum bottle. Here's the nitty gritty...
Guests will be entered in a lottery to have a chance to purchase a magnum bottle.
If a guest is chosen and does not want to purchase, we'll pull another winner.
Lottery is for (1) Festina Lente magnum bottle.
Bottle will be available for winner to purchase at $100.
Guests in line for the release by 10:30 a.m. will get a chance to win.