From bodegas to BoDeGose with our friends at TALEA Beer Co.!
Tuesday, October 11, 2022
---
It all started with a bag of cherries. Imagine a young Sam Calagione homebrewing in his New York apartment when an idea suddenly strikes to add fresh ingredients to his liquid experiment. After a quick jaunt to his closest bodega, it would be overly ripe cherries that ultimately put him on the path to brew off-centered ales for off-centered people.
Fast-forward to 2022, and Sam has returned to New York with the same gusto to find fresh ingredients for an all-new brew. Only this time … he's enlisted the help of friend and Dogfish Head brewing manager Bryan Selders, and the uber talented team at TALEA Beer Co. Based in Brooklyn, TALEA is the only exclusively woman-owned and woman-founded production brewery and taproom in NYC.
Together, we explored Brooklyn bodegas in search of the best ingredients the neighborhood has to offer. Ultimately, we hand-selected ripe cherries and pink peppercorns to concoct, rightfully named, BoDeGose – a 5% small-batch sour. To offer a unique drinking experience at each of our locations, our version of BoDeGose also contains exotic guava, while TALEA's is brewed with mango. Both rooted in a cherry and pink peppercorn base. Both beautiful.
"I've had a blast working side-by-side with the team at TALEA to bring Bodegose to life. I brewed my first beer ever with overly ripe cherries that I purchased from a bodega in Manhattan, so this was a full-circle moment for me," says Dogfish Head founder & brewer Sam Calagione. "I'm even more excited to bring a taste of our off-centered experience in New York City to coastal Delaware."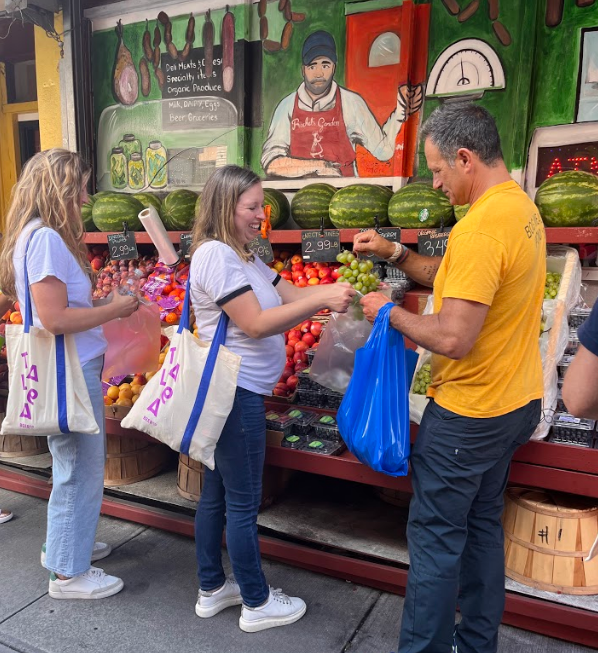 To celebrate the release of BoDeGose, we'll be hosting a New York City-bodega-inspired launch party on Saturday, Oct. 22, from 11:30 a.m. to 2 p.m. Folks who stop by our Brewings & Eats courtyard will find a coffee pop-up, hot dogs, live music and a postcard station. The purchase of a Bodegose 4-pack will also include a complimentary hot dog, as well as a BoDeGose-inspired sticker and postcard. Back up in Brooklyn, the TALEA crew will kick off the beer's release at their Williamsburg taproom with a fun run on Friday, Oct. 21.
"Collaborating with Sam and his team is an honor. We've long admired Dogfish Head for their innovation and storytelling. It was a dream come true to work together on this project to create a sour beer that represents both the culture of New York City through the lens of bodegas and that fulfills our mission to brew easy-to-love beers," says Tara Hankinson and LeAnn Darland, the founders of TALEA.