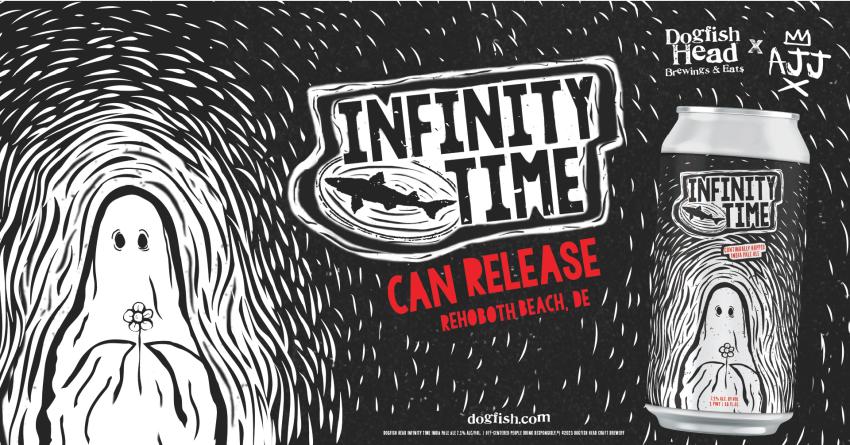 AJJ x Dogfish Head: Infinity Time. A fusion of music & beer!
Wednesday, June 07, 2023
---
Get ready to raise a glass and groove to the beat as the acclaimed folk-punk band AJJ hits our stage at Brewings & Eats in Rehoboth Beach on Wednesday, June 7 at 9 p.m. AJJ is known for their emotionally charged lyrics, energetic performances, and unique musical style. Over the years, they have gained a dedicated following and have become influential figures in the punk and indie music scenes. The goodness doesn't stop there, we've collaborated on an exclusive beer with the band just in time for this show - Infinity Time! Get ready for an unforgettable experience that will leave you singing and sippin' in perfect harmony.
Infinity Time is a continually hopped India Pale Ale that's been hopped for what seems like an eternity! (7.1% ABV). It's brewed from organic two row barley malt, wheat malt, oat malt and caramel 10 malt, creating a creamy soft and bready malt base to support continual hopping. During the boil, the beer received a dose of hops every sixty seconds and the beer was dry hopped daily from the beginning through the end of fermentation.
"The hop blend is made up of one classic hop crucial to Dogfish IPA history, Amarillo. That's piled onto with a new, exciting hop currently known as 17701. Finally, we chose a relatively geographically significant hop variety that originated in the Southwest, much like the band AJJ", said Dogfish Head Brewing Manager, Bryan Selders. "That hop is a neomexicanus variety called Zappa. This blend was used for both kettle hopping and dry-hopping. It featured pungent citrussy aromas of tangerine and lemon with piney, dank undertones and exotic tropical fruit."
Infinity Time will be available on draft, for on-site consumption, at Dogfish Head Brewings & Eats and to-go in 4pk/16oz cans at Dogfish Head's Off-Centered EmPOURium in Rehoboth. Priced at $18 per 16 oz. 4 – pack.
Tuning the Can Art: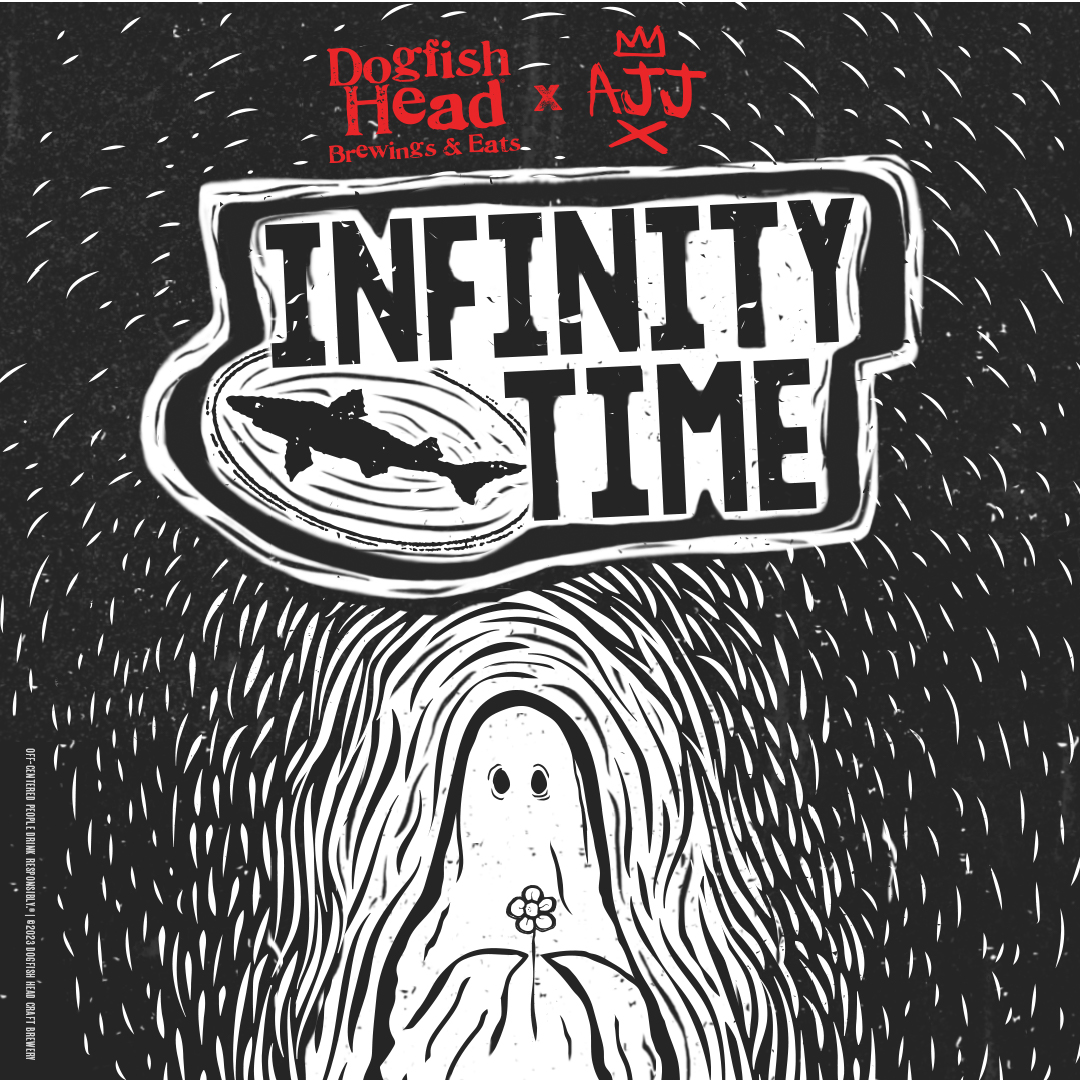 Our design team put their hearts into this one! Diving a little further into how this was created and the inspiration for our designers. "AJJ's discography, and in particular, their track 'White Ghost,' was the inspiration. A track that's sweet and sentimental with themes of life, death, longing & love. Which are some reoccurring themes throughout the band's discography and ones I kept in mind while creating the label," said Kathy Villa on the Creative & Print Services team. You'll also notice the block print style of art for a more handcrafted look to really amplifies the idea of eternity/infinitely being. 
Showtime at Brewings & Eats on Wednesday, June 7:
To celebrate the release of Infinity Time, AJJ will be performing a live show on our stage at 9 p.m. on Wednesday, June 7. We've hosted quite a few legendary acts in music history, and now it's AJJ's turn to captivate the audience! Get ready to witness a show-stopping collaboration that will strike a chord in your heart and taste buds. As always, we got ya covered with no cover and no tickets, show is free!! Check out all of our upcoming shows, beer releases and events right here!