2023 Art Series Artist Natalya Balnova Draws on Surreal Aspects to Tell the First of Four Art Series Stories.
Tuesday, January 24, 2023
---
We are ecstatic to announce our 2023 Art Series artist, Natalya Balnova! Having worked on everything from illustrating and designing to printmaking (and now beer can drawings), Natalya is the epitome of an off-centered artist.
Natalya is along with us for the design-ride through four different Art Series beers. The first of these four being Nordic Spring, a super citrusy hazy IPA that embodies the whimsical idea of magical drinks in magical places.
Get to know more about Natalya's work, on her website, and learn more about her artistic process and all things off-centered Art Series below!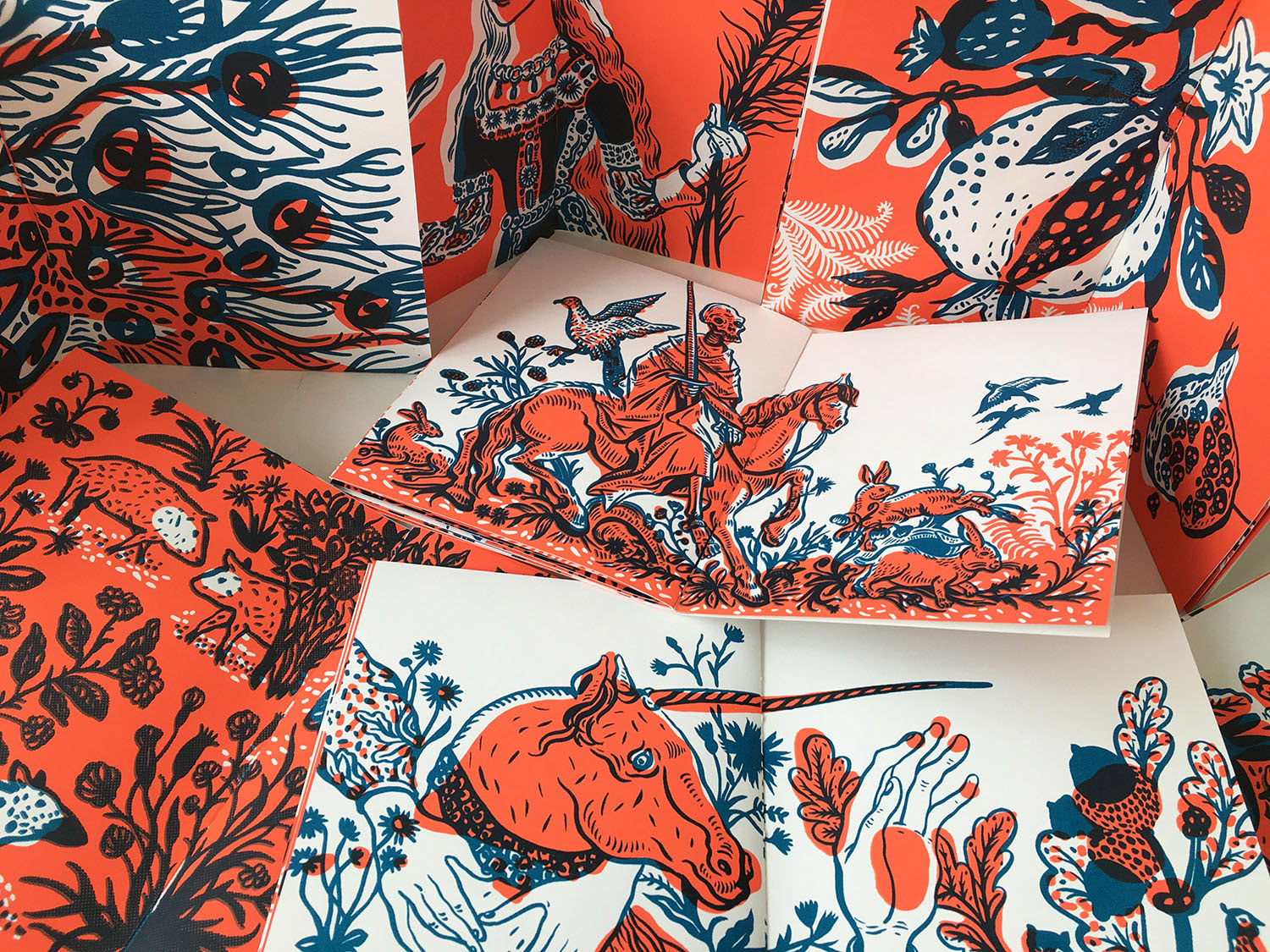 How long have you been an illustrator?
I have been drawing all my life. So, for me, drawing has been a constant evolution.
We have a saying we use a lot to talk about our beer – "Analog beer for the digital age." –could you tell us a little bit about how you use analog and digital techniques to create your work?
For my printmaking projects I make all drawings with black ink and then bring them to Photoshop to play with color, textures and adjust composition. Once I settle the layout, I make separations digitally and use them for the silkscreen printing.
How is approaching posters based on beer brands different than, say, a movie, a band or a specific personality? Does your process change at all?
In general it is a rather similar process. You get a sense of the content and then start working with concept and form. But beer itself is an exciting theme to work with, so it helps to liberate your mind!
How much input do your clients give on content?
It depends on the client. Some clients give me a lot of freedom. They are willing to experiment with visuals, and are open to my own interpretation of the projects. Some clients have a particular concept in mind and ask me to work in the given direction.
You've worked with a lot of big names, and at some point must have worked with bands or actors or directors that you really love. Do you ever step back, pinch yourself, and think, "Wow, it's really cool to be a part of this creative world?"
I didn't really work with bands, actors and directors. Most of my work is focused on editorial and book design. I did some product designs for the Blue Q company, which was a really interesting experience, since I have always been a big fan of this company and admired them for their great sense of humor and experimental nature of the design. I also worked on an illustration for the branding system for The V&A Performance Festival, and it was an awesome project!
What do you like to play with when you're drawing something? Composition, size, color … all of the above?
All of the above. If I am making sketches with markers, I work on multiple drafts of different layout options. When I am drawing with ink, my original compositions are based mainly on intuition and I don't make preliminary sketches. They have more spontaneous energy. Then I adjust drawings digitally and play with scale, placement of the elements, overall layout structure and of course color. If I use screen printing, I can still mix alternative colors for my drawings during the printmaking process if I feel that I need some additional take off on the color palette.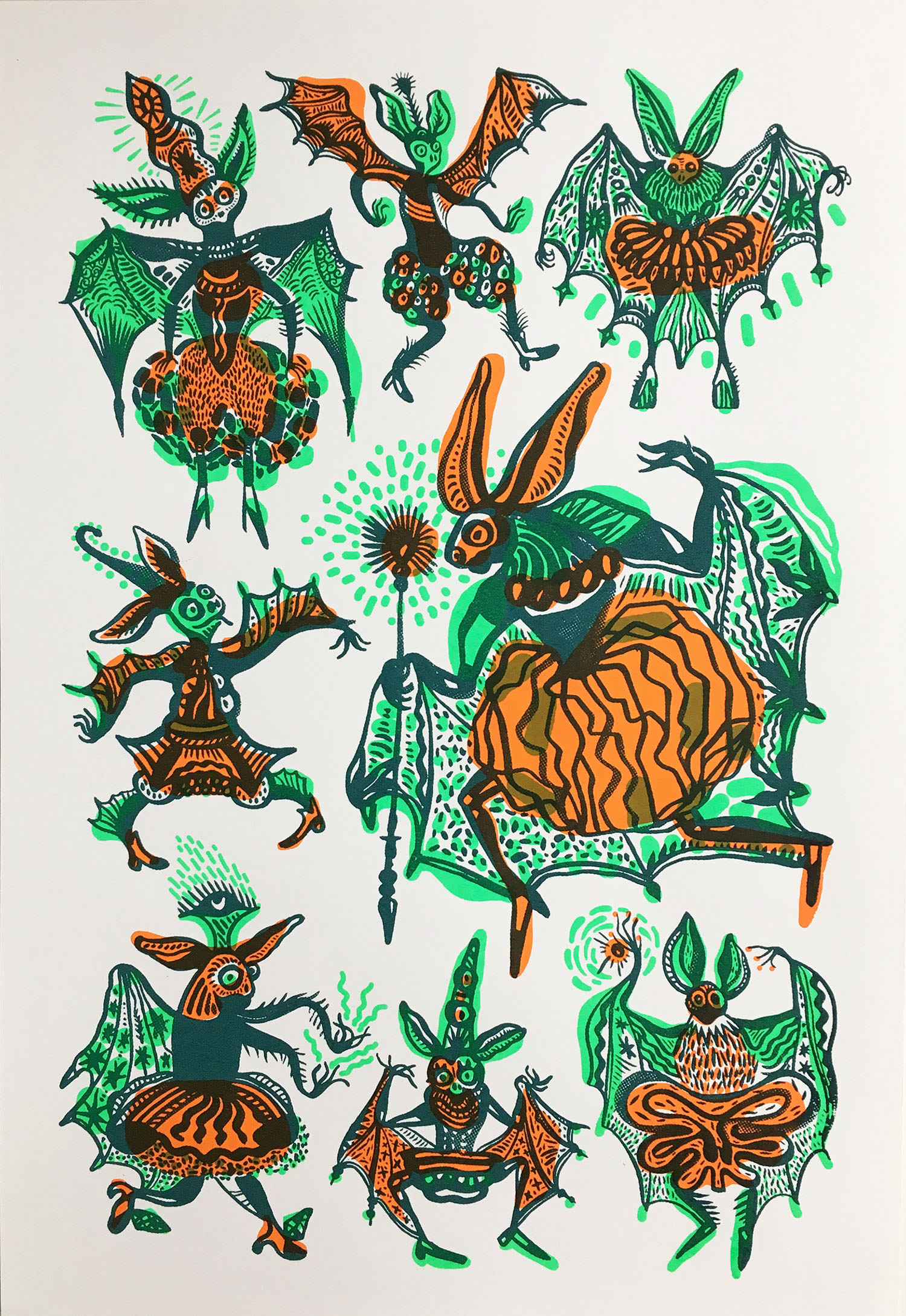 Who do you admire in illustration, past or present, and why?
There are so many inspiring artists and illustrators. I am interested in grotesque imagery, with some dark nature. I also like poetry as a form of self-expression, so I am leaning toward visuals that combine all these aspects in some way. Overall, I would say I admire Jonny Hannah, David Shrigley, Blexbolex, ATAK, Cristina Daura, Henning Wagenbreth, Sophy Hollington, Alice Pattullo, Carlos, Hernandez and many more.
At Dogfish, we've learned to embrace the intersection of art (in liquid form) and business. Was that ever tough for you?
It depends on the client and a project. If I feel very passionate about content, the work process goes very easily. It boosts my creative energy and I can approach projects from a more personal perspective. Some projects are less inspiring and, on a subconscious level, it definitely affects my imagination. That's why it is important for me to do my own projects where I can be truly myself without any constraints.
What's the creative process? How do you work with the designers at Dogfish?
We initially talked about possible concepts and decided to go with a theme of magic lands. I thought it would be interesting to experiment with creatures living in these fantastic landscapes and make them part of the story. Once we settled on character selection, I sketched out general layouts with markers and then refined them in Procreate. It was a very exciting process since I was given complete creative freedom and a chance to experiment with visuals. I made some adjustments, based on the design team comments, but the overall work was very smooth.
Do you get to try the beer beforehand?
I tried it later on, once I had already started to work on illustrations.
What's your favorite Dogfish Head beer?
I would say my favorites are Punkin Ale and Blue Hen Pilsner, out of the ones I have had a chance to try.
What was your inspiration behind Nordic Spring?
As I mentioned before, since we decided to go with a theme of magic lands, I wanted to bring some surreal aspect to the story. I focused on character designs which would inhabit this land, and at the same time, represent different beer ingredients and reflect the overall spirit of the drink and flavor. I played with various shapes of berries and fruits and built up a series of fantastic creatures.