12 Days of Dogfish
Monday, December 11, 2017
---
It's the most wonderful time of the year … for beer! We're celebrating this holiday season with two very special tidings of cheer. Beginning Tuesday, Dec. 12 you'll find 12 Days of Cask at our Rehoboth brewpub and 12 Days of Randall at our Milton brewery!
At the Milton Tasting Room
Looking to the season for inspiration, our 12 Days of Randall pays homage to the classic Twelve Days of Christmas. Everything from Turtle Doves to Drummers Drumming! Without further ado…
On the first day of Christmas my true love sent to me -
Tuesday, Dec. 12
A Partridge in a Pear Tree - 60 Minute with Pears
Wednesday, Dec. 13
Two Turtle Doves - Indian Brown Ale with Chocolate & Caramel
Thursday, Dec. 14
Three French Hens - Namaste with Lavender and Rosemary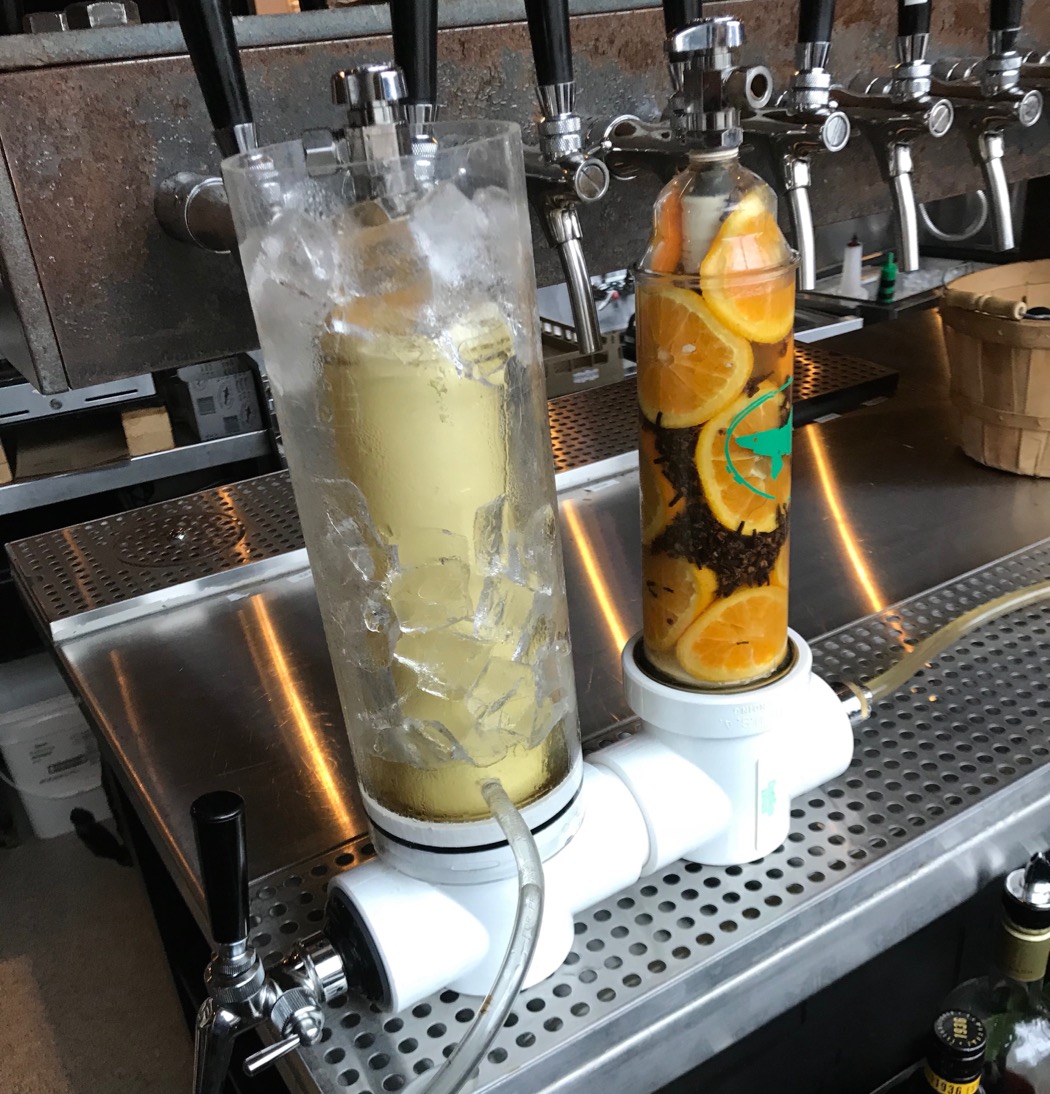 Friday, Dec. 15
Four Calling Birds - SeaQuench Ale with Gummy Worms
Saturday, Dec. 16
Five Golden Rings - Sick Cider with Peach Rings & Cinnamon Sticks
Sunday, Dec. 17
Six Geese a-Laying - Sixty One with Gooseberries
Monday, Dec. 18
Seven Swans a-Swimming - SeaQuench Ale with Swedish Fish
Tuesday, Dec. 19
Eight Maids a-Milking - A Night in the Woods (a milk stout) with French Roast Coffee
Wednesday, Dec. 20
Nine Ladies Dancing - SeaQuench Ale with Tequila-soaked Cherries & Gummy Bears
Thursday, Dec. 21
Ten Lords a-Leaping - 90 Minute with Hops & Habanero
Friday, Dec. 22
Eleven Pipers Piping - Palo Santo Marron with Smoked Beef Jerky
Saturday, Dec. 23
Twelve Drummers Drumming - 90 Minute with Peppermint Sticks
At the Rehoboth brewpub
For our 12 Days of Cask, we dug deep into our special stash to pull out six very unique offerings. You'll find tastes of the season in each of these with flavors of comfort and joy.
Dec. 12 & 13
Liquid Truth Serum IPA
Dec. 14 & 15
Orange Creamsicle (Flesh & Blood IPA with vanilla beans & milk sugars)
Dec. 16 & 17
Dogfish Head Distilling Co. Whiskey Barrel-Aged Palo Santo Marron
Dec. 18 & 19
90 Minute IPA with Ginger and Grapefruit
Dec. 20 & 21
Night In the Woods (S'mores Stout)
Dec. 22 & 23
Punkin' Pie (Punkin Ale with vanilla beans and milk sugars)
These Randall and Cask offerings are subject to change based on availability and awesomeness.