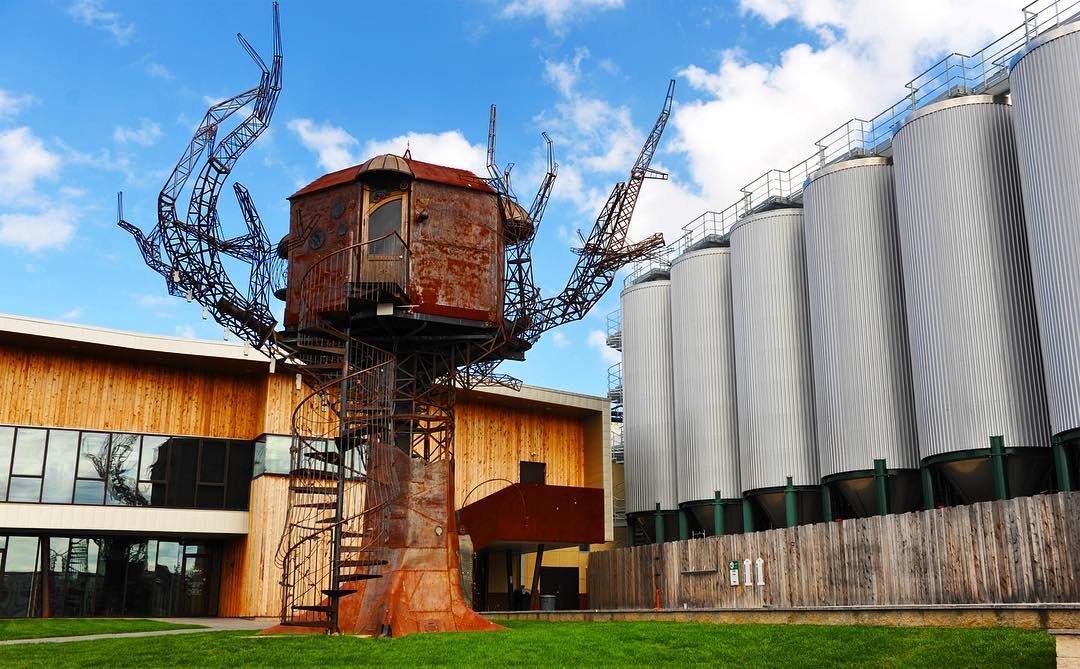 When you pull up to Dogfish Head in Milton, DE you just might notice our off-centered, retro-futuristic sculpture The Steampunk Treehouse. This piece of functional art had an illustrious history before creating a permanent home at Dogfish in June of 2010.
The treehouse was concieved and created by the Oakland, CA based artist Sean Orlando and the Five Ton Crane Arts Group in 2007 (more on the artists). The interactive large-scale project debuted at the Burning Man event in Black Rock City, NV in late August of that year. The Tree is 40' tall, 40' wide, weighs 8 tons, and was crafted in part from recycled and reclaimed materials.
According to lead artist Sean Orlando, "the Steampunk Treehouse was made to explore the relationship between our rapidly changing natural world and the persistent human drive to connect with it and one another. It is our second nature."
We at Dogfish stumbled across the Treehouse online and began a dialogue with the artists. When we learned they were looking for a permanent home for their sculpture we knew it was meant to be! Two off-centered crews coming together.
Orlando and the 5-Ton crew arrived at the Milton brewery in June of 2010 for the installation. We had a great time getting to know them and watch their magic happen! On June 25th, we smashed a bottle of Life & Limb against the door and officially made Dogfish the new home of The Steampunk Treehouse.
The Steampunk Treehouse can be viewed and enjoyed by all the folks visiting the brewery. Access to the interior of the Tree House is limited to our Dogfish co-workers as we use the space to share ideas in a creative environment; in essence it is our off-centered safety tree.
Wanna know more?
Dimensions:
 •  Total height 40' tall
 •  Trunk height 20'
 •  Trunk diameter 2' (5' total trunk dia. with outer skin)
 •  Total spread of branches 40' diameter
 •  Main structural support branches diameter 15'
 •  Treehouse component off of the ground 20'
 •  House dimensions: 15' hexagonal / 12' tall