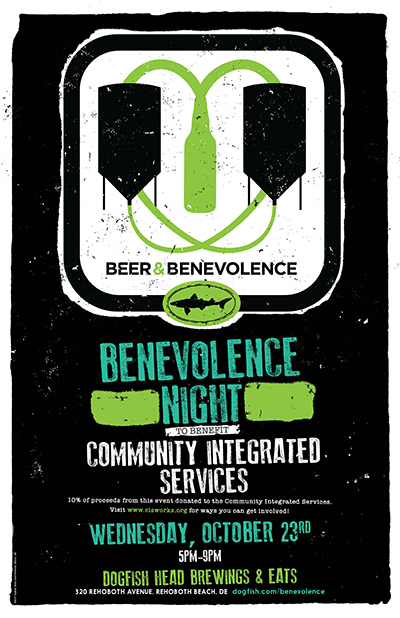 "Off-centered ales for off-centered people." "Analog beer for the digital age." "Imported from the other room."
You might recall these as some unique slogans from t-shirts here at Dogfish Head Craft Brewery. They are, but did you know that's how Dogfish's community giving program got its name? "Beer & Benevolence" came from the tagline on a t-shirt, and what better way to describe what we do.
"Beer & Benevolence" is the philanthropic branch of Dogfish Head Craft Brewery. We endeavor to creatively collaborate with nonprofit organizations to foster community, nourish artistic advancement and cultivate environmental stewardship.
Dogfish has believed in giving back to the community since day one. When Dogfish opened in 1995 as the smallest commercial brewery in America the community came out to try our beer, buy our beer, and in doing so support us. It was only natural that we supported them back.
Our Beer & Benevolence program supports hundreds of non-profits annually through charitable financial contributions, non-profit event sponsorships, and alcohol/merchandise product donations.  This support of the community paired with various programs, projects and initiatives that fall under Beer & Benevolence typically surpasses $500,000 annually.  We love to host our non-profit friends at Dogfish Head Brewings & Eats for "Benevolence Nights" where we donate a portion of the evening proceeds to the organization combined with supporting the arts by hosting local musicians to share some tunes.
Each month the Tasting and Tour Team at our Milton brewery location team up with local non-profit organizations to raise awareness about the cause, and the awesome part is the team donates their monthly tips direct to the non-profits. In a typical year, over $100K is raised from the tour tip program for dozens of non-profits across coastal and southern Delaware.
Occasionally our Beer & Benevolence team gets to collaborate with our brewing colleagues and create a "Benevolence Beer" or two. Some recent examples include our participation with the "Black Ale Project"

supporting local veteran organizations, and the "Black is Beautiful" project supporting the Southern Delaware Alliance for Racial Justice.
In 2019, Dogfish Head merged with the Boston Beer Company (BBC) and Beer & Benevolence became an integral part of BBC's Social Impact Team.  The Social Impact Team, led by Dogfish Head co-founder Mariah Calagione, continues to support our communities here in Delaware and is working to support all of our BBC communities.