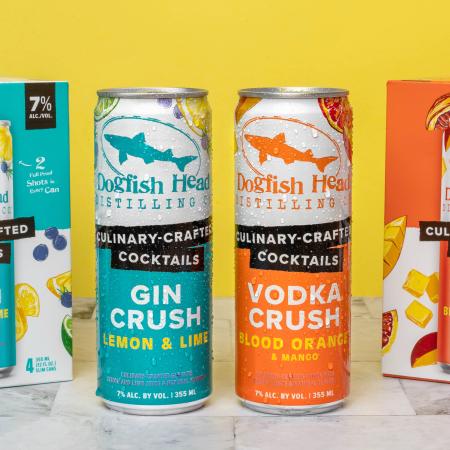 Blood Orange & Mango Vodka Crush
Culinary-Crafted Cocktail Distilled from Blood Oranges & Mango
Sweet and tart play back and forth bringing balance to this cocktail.  Juicy orange rind backed up with dried mango flavors. Light & Drinkable, with a lingering acidity and astringency.
---
If you've ever visited the east coast, in particular our home in coastal Delaware, there's a good chance you've either heard of (or indulged in) the incredibly popular 'Crush' – a drink handmade in the bars where they quite literally CRUSH fresh citrus on top of vodka, gin, tequila or rum. And with roots in the heart of Crush country, you guessed it … we've crafted a new take on the crush cocktail that is both citrus-forward, crushable and super convenient because we've packaged it into cans!
Behold, Blood Orange & Mango Vodka Crush! At its heart, real blood oranges & mangos distilled with vodka, then blended with orange juice & mango juice, and a touch of lime citrus. This cocktail is bursting with juicy flavor, yet is light & refreshing.
A beautiful coral pink color with a slight haze. On the nose you get citrus aromas of grapefruit and orange intermingled with slight tropical notes. Nothing like a heavy, cloying Screwdriver … this is juicy and refreshing, and well … crush-able!
So ditch the fancy glassware, mixing equipment and enjoy cold, straight from the can!!
200 calories | 16 carbs | 0g protein | 0g fat per 12 oz. serving
Blood Orange & Mango Vodka Crush is certified gluten free.
Dogfish Head Blood Orange