1 cup quinoa, rinsed and drained
2 cups grated carrots (about 2 large)
2 cups thinly sliced purple cabbage
3 green onions, white and green parts sliced
1 cup packed mint leaves, chopped (cilantro works too)
1 cup packed basil leaves, chopped
1 jalapeño or serrano pepper, seeds removed, minced (optional)
1/2 cup roasted peanuts, chopped
Dressing
1/4 cup extra-virgin olive oil
1/3 cup fresh lime juice (2 to 3 limes)
2 tablespoons soy sauce or tamari
2 tablespoons honey (or maple syrup)
1 tablespoon fish sauce (optional)
Here is a foolproof method to cook quinoa. In a medium saucepan over high heat, bring to a boil 1 ½ cups water and the quinoa. Reduce the heat to low and simmer, covered, for 15 minutes or until all the water has been absorbed. Transfer to a large salad bowl, fluff with a fork, and set aside to cool.
Meanwhile, put the olive oil, lime juice, soy sauce or tamari, honey, and fish sauce (if using) in a glass jar or bowl and stir to combine.
Once the quinoa is cool, and the carrots, cabbage, onion, mint, basil, and pepper (if using) to the bowl and toss to combine. Add the dressing and toss again. Taste and, if needed, add more fish sauce or soy sauce.
Top with the peanuts. Chill in the fridge for a least 1 hour or until ready to serve.
This salad will stay fresh in airtight glass containers in the fridge for up to 5 days.
Gluten-free / Vegan: omit the fish sauce.
Recipe sourced from Run Fast. Cook Fast. Eat Slow. Written by Shalane Flanagan and her co-author (and best friend!) Elyse Kopecky. Want more? Grab a copy here!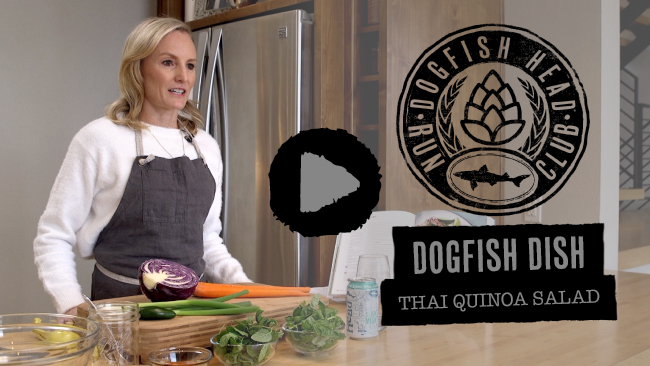 When Shalane traveled to Bend, Oregon to kick off recipe testing for book two with Elyse, this was the very first recipe to come out of Elyse's kitchen. It was love at first bite. This is the salad Shalane made on a near weekly basis while training for the 2017 NYC Marathon and 2018 Boston Marathon. While we can't promise you'll win Boston or NYC, we can bet you'll be on your way to a personal best!
Pairs perfectly with Slightly Mighty - a lo-cal IPA that's mighty in hop character and just 95 calories! After a year of R&D and months of fine-tuning what seemed to be unimaginable, Slightly Mighty is a true indie craft beer has all the character of a world class IPA, but with only 95 calories, 3.6g carbs, 1g protein and 0g fat per 12oz serving. Seriously.