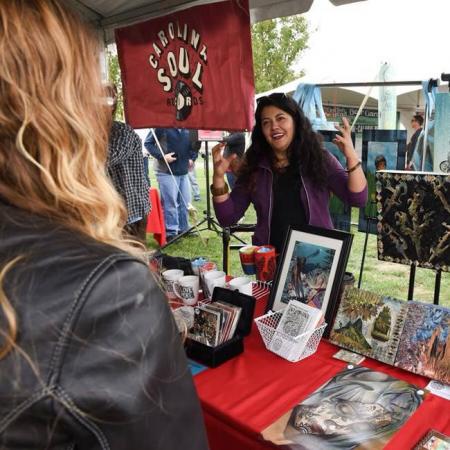 Andrea's Whimsies - Andrea's Whimsies offers etched copper and sterling wire jewelry with semi-precious gemstones and lamp work glass.
BPK Woodwork - BPK Woodwork offers handmade art and functional items made from wood.

Carly and Dave Ceramics - Wheel thrown and hand built, majolica glazed terra-cotta pottery.
Dewey Artist Collaboration - We are a local community arts non-profit making DIY bottle openers.
Dretime - Art, prints, zines and live cariactures
Extended Play- A recent offshoot of Gidget's Gadgets, Extended Play is a store that specializes in music including new and used vinyl, CD's, tapes and music equipment.

Frantic Frets Music & Antiques - Milton's very own Frantic Frets sells gently used fretted instruments and accessories for music enthusiasts. We also carry a unique variety of vintage items and household decor. 

Glass Thorpedo - Glass Thorpedo combines a love of craft beer and glass-making to create unique, handmade art and goods. Items for sale will include reclaimed Dogfish Head beer bottle candles, trays and lamps as well as hop jewelry (made with real hops!) and whimsical craft beer jewelry.
KA-CHUNK!! Records - KA-CHUNK!! will be selling a wide array of new vinyl records from current artists, along with reissues of popular favorites and limited-edition pressings.
Michael Hacker - Dogfish Head's newest Off-Centered Art Series artist starting this fall with 75 Minute IPA. Michael will be showcasing his gig posters, screen prints, comics and my recent cartoon book "Pizzeria Disgusto".
Obscurology Records - Obscurology Records will be selling vintage concert memorabilia, ephemera and LPs in genres that include rock, jazz, R&B, reggae, folk, blues, disco, old school hip hop and soundtracks.
One Man Gathers Studio - Giving old wood a second chance by selling items for the home created from wood that was destined for the landfill. Items for sale include, but are not limited to six pack holders, wooden bottle openers, wall art and wooden serving products.

Pat Higgins Illustration - Pat Higgins is an award winning illustrator, graphic designer, cartoonist and beer nerd from Delaware. He will be showcasing his newest graphic novel, "The Shipwreck of Captain MacNamara", as well as his other books, fonts and art prints.
Peggy Keil Handbags and Quilts - Peggy will be offering handmade handbags, quilts and pillows, from quality fabrics, mostly wools. She's known for her attention to great color combinations and quality construction.
Petra Art + Interiors - As an artist/interior designer from Austin/the world, Petra says that she is honored to be a part of Analog each year. Bringing the finest pieces from her collection, she concentrates on the off-centered, coastal or just plain "pfunkadellic". She'll have both originals and prints available, so no matter what their price point, Analog-ers can go home with some dope art and memories of a fun day.
Public - Supply - Public Supply creates writing essentials in support of public school arts. They are committed to creating distinctive, high-quality products, and to making a difference by giving public school teachers the resources they need to help their students grow through creative work.
Rainbow Records - Rainbow Records is family owned business, and has been serving the community in Newark Delaware for over 35 years! We specialize in everything music including vinyl records both new and used, as well as one of a kind music inspired flannels and jean jackets! Can't wait for our favorite event of the year Analog-A-Go-Go!!!
Rasslin' Records - Rasslin' Records will be offering new and used vinyl of all styles, the usual and unusual, Steve Keene album art and more.
Sid Vintage - Sid Vintage sells vintage clothing for men, women and children. They sell online on their website as well as on their Etsy stores, sidvintage.etsy.com and sistersidvintage.etsy.com.

Solid Sender - Solid Sender will offer LPs including the following genres: rock, jazz, blues, soul, Latin, international, soundtracks, folk, country, disco/dance, 12" and metal. CD's, DVD's, 45's and some ephemera will also be available.
Soul Relief Records - Brick and Mortar in Greensboro NC we specialize in hard to find soul, funk, psych, jazz, reggae, disco and beyond.
VINYL ADDICTION - The sale of used vinyl record, representing many genres.

Wattsiswhat - Run by author, spoken word performer and frontman of the band iAmnot, Nathaniel Watts, Wattsiswhat is a company that prides itself in bringing quality and in demand vinyl. No, you will not find any Montovani, Herb Alpert or even Linda Rondstat in our crates.
Wine and Beer Pours - Kim Klabe will be selling and demonstrating wine and beer pour art.
---
Food Trucks
Bunyan's Lunch Box - Dogfish Head's food truck will be back open for the day on the grassy know serving up wood-grilled hamburgers and hotdogs. Our new Tasting Room & Kitchen will also be open for delicious goodness to accompany your beer sample.

Fifers Orchards Doughnut Food Truck - Fifer's will provide hand-mixed and hand-cranked doughnuts with their simple, yet secret blend of flour, spices, sugar, and Fifer's fresh apple cider. 
I Don't Give a Fork - Serving delicious and easy-to-eat food with not only high quality ingredients, but with personality as well.... and without utensils.
Mojo Loco - Eclectic Street Food ranging from short rib grilled cheese to the best street tacos north of Mexico! Their mojo style pork is like something you've never tasted.
Nellie's Waffles – Serving specialty waffle and ice cream sandwiches, as well as chicken tenders or chicken patties and waffles, all made to order. Nellie's Waffles & Ice Cream delivers high-quality, unique and delicious food at fairs, carnivals, and special events.
Scission Espresso - An espresso bar on wheels with unique homemade drink flavors and desserts.
WiLDWiCH Cafe & Food Truck – Serving gourmet Sandwiches, salads, scratch-Made pickles, amazing cookies, and fresh lemonade.