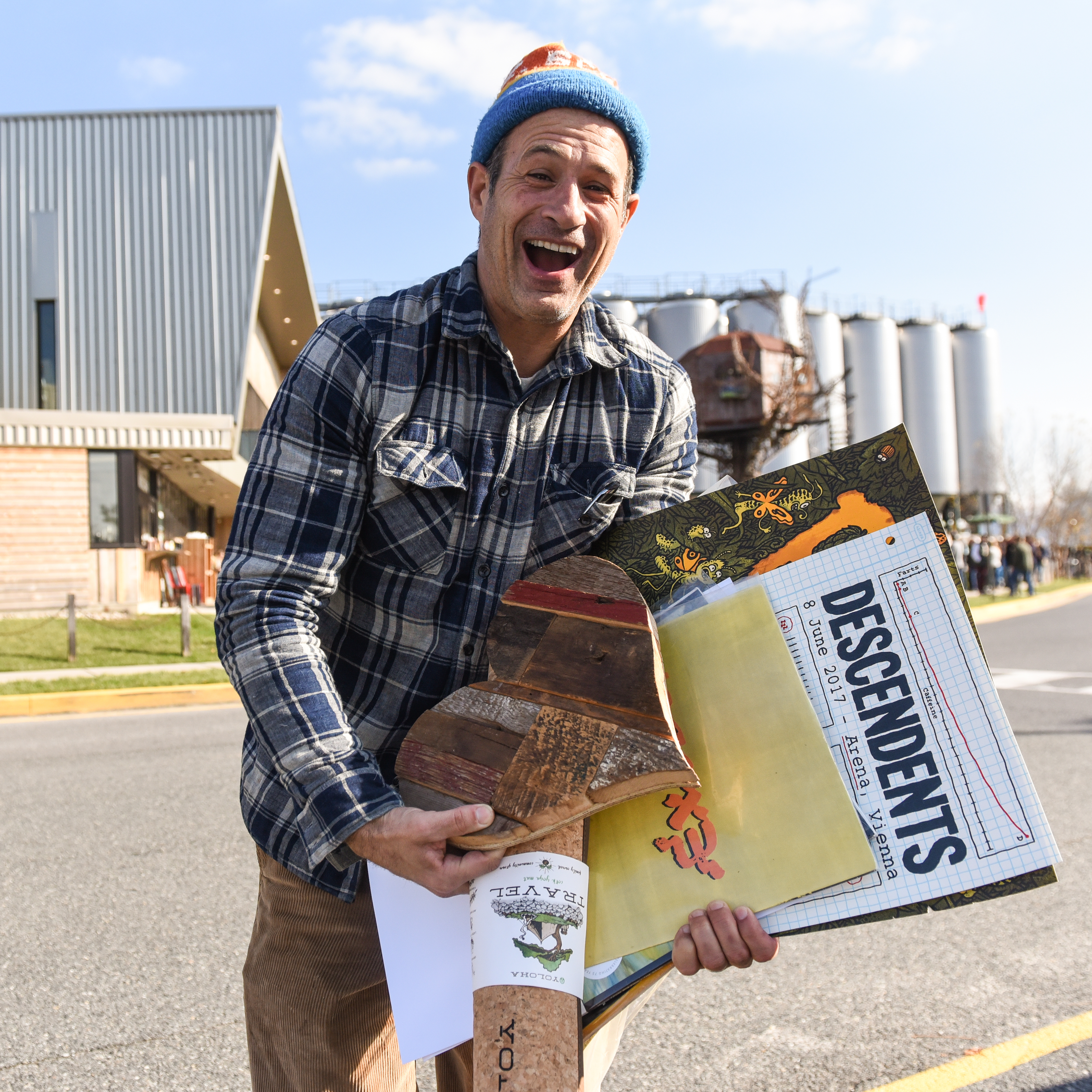 Joint Custody - Joint Custody offers a wide variety of new and used LPs and 7"s across all genres, with a specialization in hard to find titles. As one of the Washington D.C.'s best record stores, they strive to fill the gaps in your collection at competitive prices.
Milton Multimedia - A multimedia business in Milton that will be showing and selling Comic Book and Fantasy Art illustrations.
Obscurology Records - Obscurology Records will be selling vintage concert memorabilia, ephemera and LPs in genres that include rock, jazz, R&B, reggae, folk, blues, disco, old school hip hop and soundtracks.
One Man Gathers Studio - Giving old wood a second chance by selling items for the home created from wood that was destined for the landfill. Items for sale include, but are not limited to six pack holders, wooden bottle openers, wall art and wooden serving products.
Rasslin' Records - Rasslin' Records will be offering new and used vinyl of all styles, the usual and unusual, Steve Keene album art and more.
Sid Vintage - Sid Vintage sells vintage clothing for men, women and children. They sell online on their website as well as on their Etsy stores, sidvintage.etsy.com and sistersidvintage.etsy.com.

Solid Sender - Solid Sender will offer LPs including the following genres: rock, jazz, blues, soul, Latin, international, soundtracks, folk, country, disco/dance, 12" and metal. CD's, DVD's, 45's and some ephemera will also be available.
Soul Relief Records - Brick and Mortar in Greensboro NC we specialize in hard to find soul, funk, psych, jazz, reggae, disco and beyond.

Wattsiswhat - Run by author, spoken word performer and frontman of the band iAmnot, Nathaniel Watts, Wattsiswhat is a company that prides itself in bringing quality and in demand vinyl. No, you will not find any Montovani, Herb Alpert or even Linda Rondstat in our crates.
Yoloha Yoga - Yoloha Yoga is the creator of the world's first cork yoga mat. Their family-owned business and community grown business provides many eco-friendly, high-quality yoga products.
Wine and Beer Pours - Kim Klabe will be selling and demonstrating wine and beer pour art.
brian. (from the future) - Brian has created unique handmade wood art and home-based goods for Analog-A-Go-Go, made with love from Philadelphia and the future!
Mumford Woodworking - Mumford Woodworking will be selling handcrafted wooden utilitarian items, including cutting boards, stools, benches and wood-burned wall art.
Schrock's Soap - Schrock's produces handmade soaps, lip balms, beard oils and body butters using only all-natural ingredients that are only sold locally in the Milford area and online.
Droplet Spectrum Retail LLC dba Rainbow - A local Delaware business for over 39 years that sells vinyl records and custom clothing.
Workable Earth Pottery - Pottery and ceramic art studio based in Seaford, Delaware.
Mikie Love's Discount Vinyl Shanty & Turntable Emporium - Sells vinyl and vintage stereos with a fun and eclectic set-up.
Milton Multimedia (and Mal Meehan Comic Book Artist) - Promoting and selling comic book and fantasy illustration artwork including original artwork, prints, posters and portfolios.
Carly and Dave Ceramics - Wheel-thrown and hand-built ceramic items will be available - including mugs, tumblers, bowls, jars, tiles, and more.
---
Food Trucks
Dogfish Head Tasting Room & Kitchen - Our Kitchen will also be open for delicious goodness to accompany your beer sample.
I Don't Give a Fork - Serving delicious and easy-to-eat food with not only high quality ingredients, but with personality as well.... and without utensils.
Mojo Loco - Eclectic Street Food ranging from short rib grilled cheese to the best street tacos north of Mexico! Their mojo style pork is like something you've never tasted.
Nellie's Waffles – Serving specialty waffle and ice cream sandwiches, as well as chicken tenders or chicken patties and waffles, all made to order. Nellie's Waffles & Ice Cream delivers high-quality, unique and delicious food at fairs, carnivals, and special events.
Scission Espresso - An espresso bar on wheels with unique homemade drink flavors and desserts.
WiLDWiCH - Returning this year to Analog-A-Go-Go to provide delicious food made from scratch with fast, friendly & impeccable service.