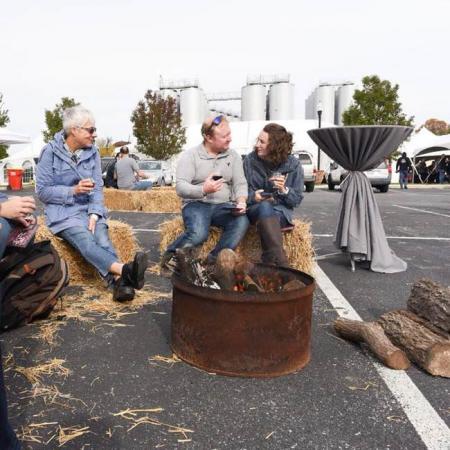 When: November 16-18, 2018
Where: Dogfish Head Craft Brewery, Dogfish Head Brewings & Eats, Chesapeake & Maine and the Dogfish Inn
In addition to the rare off-centered ales served throughout the day at the brewery, join us for a full weekend of compelling activities in our other Delaware locations!
The Brewery
Saturday, November 17
Lots of goodness will be happening at the brewery on Saturday!
If you select the $20 ticket option, you'll receive a limited-edition Analog-A-Go-Go tasting glass, 10 samples including 7 cask beer samples and 2 distillery samples, access to our unique vendors, and treehouse and brewery tours. Pints will be for sale beyond your samples. Shop and swap vinyl with local record stores, listen to tunes spun by DJ GrossYall from Alamo Drafthouse Cinema, shop the artisanal marketplace and enjoy food from various food trucks.
If you've ever wanted to see what it's like inside our Steampunk Treehouse, now's your chance! We'll be giving treehouse tours from 11:30 a.m. to 3:30 p.m. Our merchandise shop will also be open to guests all day.
---
Dogfish Head Brewings & Eats
All weekend long, you'll find an awesome selection of off-centered ales on tap at our Rehoboth brewpub, as well as some rockin' live music! Check it.
Friday, November 16
Join us on Friday, Nov. 16 as we premiere a special collaboration brew with our friends from Dewey Beer Co.! We've also got Japanese Breakfast taking the stage! The indie pop solo project of singer-songwriter Michelle Zauner,  Japanese Breakfast, has mastered the craft of veiling melancholy in full, celebratory shimmer. Show starts at 10 p.m., no cover.
Saturday, November 17
We're back on Saturday, Nov. 17 with even more live music, and it's most definitely a night you won't want to miss! We're kicking off the night with our very own hip-hop / beer-geek duo, the Pain Relievaz. Then we're joined by DJ @jimshreds before rolling into our final (and main) act ... Trappist! With one clear mission, Trappist aims to annihilate the listener with a storm of d-beat, crust punk, powerviolence, and hardcore all in the name of BEER. This three-in-one evening starts at 10 p.m., and as always ... no cover! 
Sunday, November 18
Not ready for the weekend to be over yet? Come on back to our Rehoboth brewpub on Sunday for a delicious Analog-A-Go-Go themed brunch, with a special DJ spinning vinyl from 10 a.m. to 2p.m.
---
Chesapeake & Maine
Friday, November 16
Head on over to Chesapeake & Maine on Friday from 5-8 p.m. for live, smooth jazz music by Bruce Anthony. While you're there, enjoy 20% off vintage bottles (dine-in only) of some of Dogfish Head's most sought-after brews!
Saturday, November 17
Chesapeake & Maine will be closed on Saturday for a private event.
Sunday, November 18
Lobster Party Sunday just might be the sweetest deal around! Before you head out of town, be sure to stop by Chesapeake & Maine to enjoy a 1.25 lb. lobster for just $10 ... yes, $10! Doors open at 12 p.m.
     *This is a dine-in only deal ... sorry, can't take 'em with you. We've only got so many lobsters every Sunday, so this is a 'while supplies last' kind of deal!
---
The Dogfish INN
INN packages include the following: 2 night minimum stay at the INN on Friday and Saturday nights, 2 Analog tickets per room (with option to add on tickets and the exception of 4 tickets included with Sweet cost), Friday night music-themed Fireside Chat with Sam and Dogfish Head brewer Bryan Selders on Friday night at 6 pm, 2 uber codes (value up to $20 each), and shuttle service throughout the weekend. 
COSTS
Single King (6 available):  $509 - SOLD OUT!
Double Queen (5 available): $509 - SOLD OUT!
Sweet!  (1 available):  $959 - SOLD OUT!
Super Sweet! (1 available, 2 night minimum; dates are flexible): $979
---
Other housekeeping items
Please wear closed-toed shoes and pants if you plan on taking a tour.
The Tasting Room will be closed to the public.
---
Transportation/Accommodations
Use this address for your GPS: 500 Off-Centered Way, Milton, DE 19968
Parking- On the day of the event you will NOT be able to access the brewery through our main entrance. You will need to enter through our back of house entrance on Cave Neck Road.
Looking for a place to crash? Start here:
Rehoboth and Dewey Chamber of Commerce
Rehoboth Beach Main Street
Lewes Chamber of Commerce
Other options HERE
Jolly Trolley Transportation
Jolly Trolley will be using a pay-per-seat option ($10 each way) and it will be the responsibility of the guest to reserve their seat online prior to the event.
Pick-up times from the Dogfish Head Pub (Rehoboth Ave, Rehoboth Beach) will be 10:30 a.m. and 11:30 a.m.
Returning trips from the brewery will be at 3 and 4 p.m.
NOTE: The pay-per-seat program closes 24 hours before our first trip from Rehoboth Beach on November 16 at 9:30 a.m. Tickets will still be available on site at the same price, but seats will not be guaranteed without buying in advance.
BOOK HERE
For more information about the event, contact Event Planner Tricia