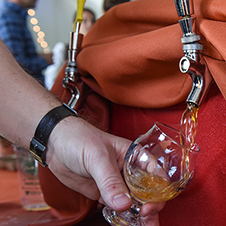 Are you ready?! We've got quite the beer lineup for this year's Weekend of Compelling Ales & Whatnot! A weekend chock full of all-things compelling, your ticket includes a tasting card to sample 15 different selections of rare, off-centered concoctions ... including 8 beers specially made for this event and 2 samples from our distillery. Brewmaster Mark gave us a sneak peek at the some of the offerings and waiting for March 23 to roll around, just got that much harder. Take a look at what you're in store for*...
The Perfect Disguise - 8% ABV
An American double dry-hopped IPA disguised as a Kölsch.
Paired with Dry-Rub Wings
SuperEIGHT - 5.3% ABV
Sneak peek!! Get an early taste of our newest super-fruit gose brewed with Hawaiian red sea salt, prickly pear, mango, boysenberry, blackberry, raspberry, elderberry, kiwi juices and toasted quinoa.
Paired with a Berry Blondie
American Beauty - 6.5% ABV
A psychedelic pale ale inspired by and brewed in collaboration with the Grateful Dead. Brewed with granola and wildflower honey for subtle aromas of orange and malt.
Paired with Veggie Eggrolls
SeaQuench Ale - 4.9% ABV
A session sour mash-up of a crisp Kölsch, salty gose and a tart Berliner Weiss, brewed in sequence with black limes, sour lime juice and sea salt.
Paired with Rockfish Ceviche 
Slightly Mighty - 4% ABV
Sneak peek! A lo-cal IPA that is slight in cals and carbs with mighty hop flavor! (95 calories, 3.6g carbs, 1g protein and 0g fat per serving)
Paired with Power Grain Bar
Raison D'Extra Aged in Dogfish Head Distilling Co. Whiskey Casks - 16% ABV
We took this immodest brew and kicked it up a notch by aging it in our distillery's whiskey barrels.
Paired with Cheesy Scalloped Potato Stack
Melødløus Øl  - 10.1% ABV
Norwegian kviek farmhouse ale brewed with citrus zest, juniper berries and other botanicals, then aged six months in Dogfish Head Distilling Co. Mellowdious Gin barrels.
Paired with Satay Chicken Skewer
Chicory Double Stout - 10% ABV
Double-shot version of Chicory Stout.
Paired with Tiramisu Panna Cotta
120 Minute IPA Aged in Peerless Rye Whiskey Barrels - 17% ABV
The Holy Grail for hopheads just got a little more interesting after our brewers aged this abundantly hoppy IPA in Peerless Rye whiskey barrels.
Paired with Cheesesteak Crostini
Pêche du Chêne - 9% ABV
Brett farmhouse ale with peaches aged in bourbon barrels.
Paired with Confit Pork Belly with Peach Chutney
Social Science - 6% ABV
Copper-hued India Pale Lager bountifully hopped with old-world and new-world hops.
Paired with Meatball + Polenta with a Spicy Berry Glaze
Possibly the Next Top Rated Beer on BeerAdvocate - 9% ABV
A double New England maple pastry black coffee milkshake IPA ... yeah, you read that right.
Paired with Crème Brûlée Cookie
The Steady Glow of Tended Embers - 7.1% ABV
Strong American amber ale brewed with Cherrywood smoked malt, Saaz hops and Zanzibar peppercorns.
Paired with Memphis-Style Smoked Brisket with Texas Toast & Slaw
And some more goodness from our distillery...
Analog Whiskey Aloe Mint Julep Cocktail - 10.8% ABV
A twist on the whiskey classic, made with our delicately aged, reliably smooth whiskey.
Paired with Whitefish Pâté
Bees Knees Cocktail - 25% ABV
This R&D cocktail is made using our floral Whole Leaf Gin mixed with chamomile, lemon juice and honey.
Paired with Cornbread Bites with Flavored Butter
*Beers are subject to change based on availability and awesomeness