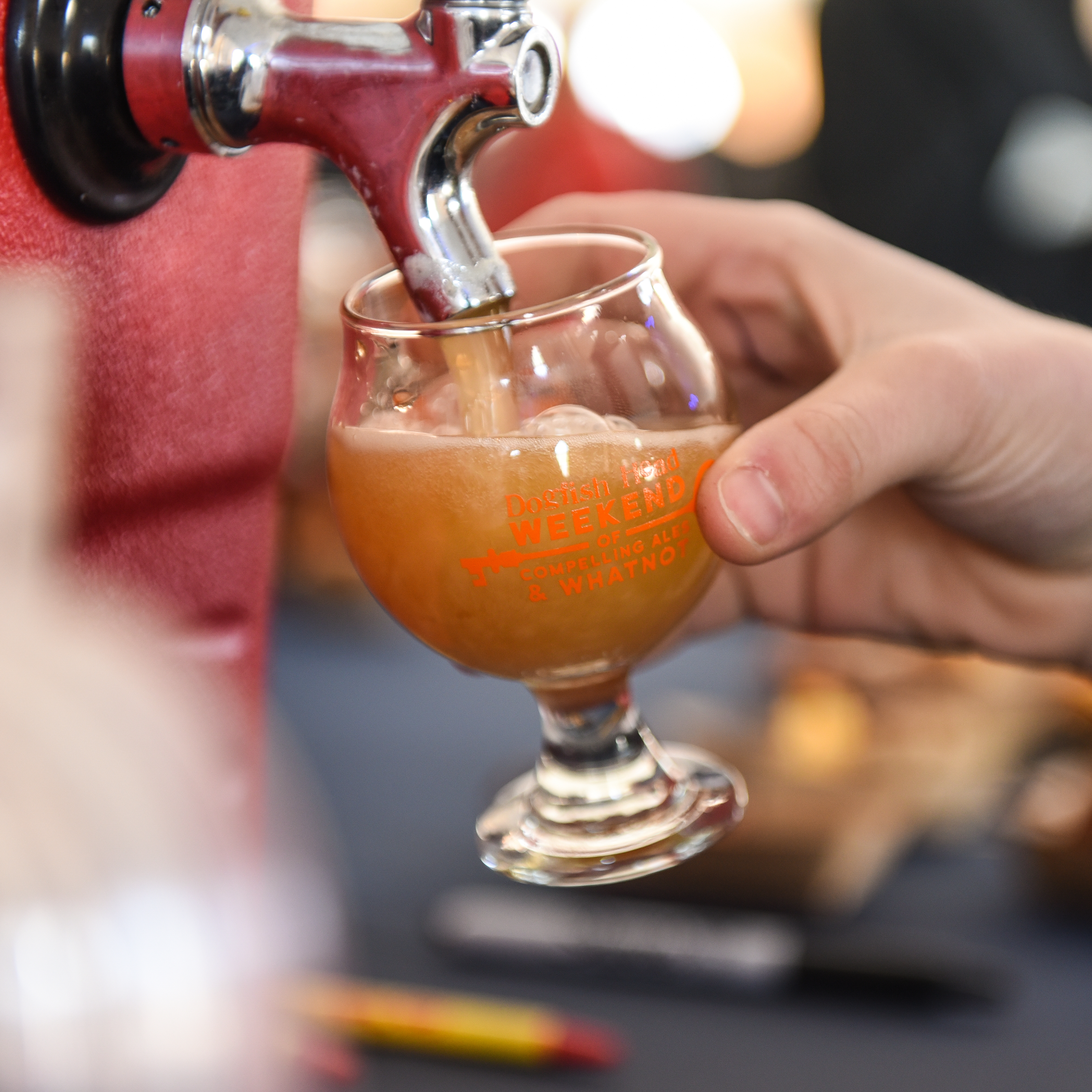 Are you ready?! We've got quite the lineup for this year's Weekend of Compelling Ales & Spirits! A weekend chock full of all things compelling, your ticket includes a tasting card to sample 16 different selections of rare, off-centered concoctions ... including 13 beers (10 of which were specially made for this event) and 3 samples from our distillery. Brewmaster Mark gave us a sneak peek at the some of the offerings and waiting for March 21 to roll around, just got that much harder. Take a look at what you're in store for*...
All in Oats - 6.3% ABV
Oat-centric IPA brewed  with malted oats, heirloom oat groats, naked oats and flaked oats all mashed in oat milk.  Hopped generously with Citra, Mosaic, Bru-1, HBC-472 and Amarillo.
Paired with - Marinated Olives & Pickled Onion
Vibrant P'Ocean - 4.7% ABV
Sour ale brewed with elderflower, elderberry, lemon slices and Belgian fleur de sel that's then blended with a two-year aged foeder beer from Brouwerij Rodenbach of Rosealare, Belgium.
Paired with - Short Rib & Brisket Burger, Pear Jam, Asiago Cheese, Bib Lettuce
Macaron Rose Framboise - 8% ABV
Sour ale brewed with puréed raspberries, toasted almonds, lemon zest, rosewater, milk sugar and Madagascar vanilla beans.
Paired with - Strawberry No Bake Cheesecake, Almond Crumbles
World Wide Stout aged in Utopia Barrels - 18% ABV
Our bold Imperial Stout aged in Sam Adams Utopias barrels.
Paired with - Barbacoa Taco, Braised Beef, Cotija Cheese, Fresh Pico De Galo, Cilantro
CUPRICious & CanTANKARDous - 7% ABV
Mule-esque sour ale brewed with ginger juice, lime juice, lactose, lime peel and kaffir lime leaf.
Paired with - Citrus Mojo Shrimp Ceviche
Beer for Breakfast: Farmer's Platter - 13% ABV
Imperial stout brewed with scrapple, maple syrup, oatmeal, milk sugar, brown sugar, applewood smoked malt and cold-press Rise Up Roasters coffee aged in maple bourbon and rye whiskey barrels.
Paired with - Belgium Pearl Waffle, Crispy Rapa Scrapple, Maple Syrup, Scrambled Eggs
Honey Dip Trip  - 10% ABV
Open-fermented Belgian-style Trippel brewed with Anson Mills Abruzzi rye, Himalayan peppercorns, orange peel, coriander and Organic African forest honey and aged in Dogfish Head Distilling Honey Rum barrels.
Paired with - Curry Bowl – Garbanzo Beans, Zucchini, Carrot, Pepper, Onion, Garlic, & Ginger with Jasmine Rice
Showy Prose - 7% ABV
Cocktail-inspired sour ale brewed with citrus juices and milk sugars, blended with an Amaro-esque infusion of citrus peels, botanicals, herbs and spices then aged in Dogfish Head Distilling Co. Alternate Takes Whiskey Barrels.
Paired with - Citrus Mini Cupcake
Knuckles, Bats & Homemade Tats - 6% ABV
Collaboration with The Veil. Barrel-aged, mixed-culture sour ale aged on red, white & black currants and hibiscus.
Paired with - Dry-Rubbed Wings – House Dry Rub, Blue Cheese
Rye Barrel-Aged 120 Minute IPA - 18% ABV
Imperial IPA aged in Sagamore Spirits Rye Whiskey barrels then assertively dryhopped with a blend of Pacific Northwest hops.
Paired with - Mini Beef on Weck – Au Jus, Salt & Carraway Bun, Horseradish
Shadow & Substance - 7% ABV
Barrel-aged dark sour ale with cherries, Mission figs and Costa Rican cascara for notes of dark fruit, tobacco and coffee.
Paired with - Grilled Street Corn, Cotija Cheese, Cilantro
Much Malarky - 5.5% ABV
Dry rye Irish-ish stout brewed with coriander, mustard seed and black pepper.
Paired with - Smoke Maine Trout Drip, Crisp Lavash
The Final Date - 4.7% ABV
Northern European Rye Pilsner brewed with floor malted Pilsner malt and malted rye hopped with German Noble hops.
Paired with - Slow Roasted Garden Herb Pork Belly, Chopped Coleslaw
And some goodness from Dogfish Head Distilling Co.
Strawberry Honeyberry Vodka Lemonade - 7% ABV
Inspired by summer visits to Sam's friend's honeyberry farm in Coastal Maine. Dogfish Head vodka is distilled with honeyberries & strawberries, then blended with our house made lemonade.
Paired with - Lettuce Wrap, Water Chestnut, Bean Sprouts, Cabbage, Green Onion Butter, Miso & Soy Sauce
Kumquat Whiskey Sour Kakutera - 7% ABV
Inspired by Lars' vacation in Japan, this Kakutera (Cocktail in Japanese) is built using our reliably smooth Straight Whiskey and blended with kumquat juice, lemon juice, simple syrup and a dash of hopped grapefruit bitters.
Paired with - Dark Chocolate Mousse with Candied Kumquat and Vanilla Bean Crème
Alternate Takes 2: Whiskey Finished in Palo Santo Marron Barrels - 40% ABV
A savory Batch-distilled using a grain bill of malted barley, applewood smoked , coffee kilned and crystal malts. This whiskey is aged in American Oak before being finished in casks which previously aged our Palo Santo Marron Ale. A savory sipper that's balanced by flavors of caramel, smoke, green tea, white chocolate and dark wood. Served neat or over ice!
Paired with - Beer Braised Chicken & Dirty Rice – Fresh Pico De Gallo, House Made Guacamole, Cotija Cheese
*Beers and cocktails are subject to change based on availability and awesomeness