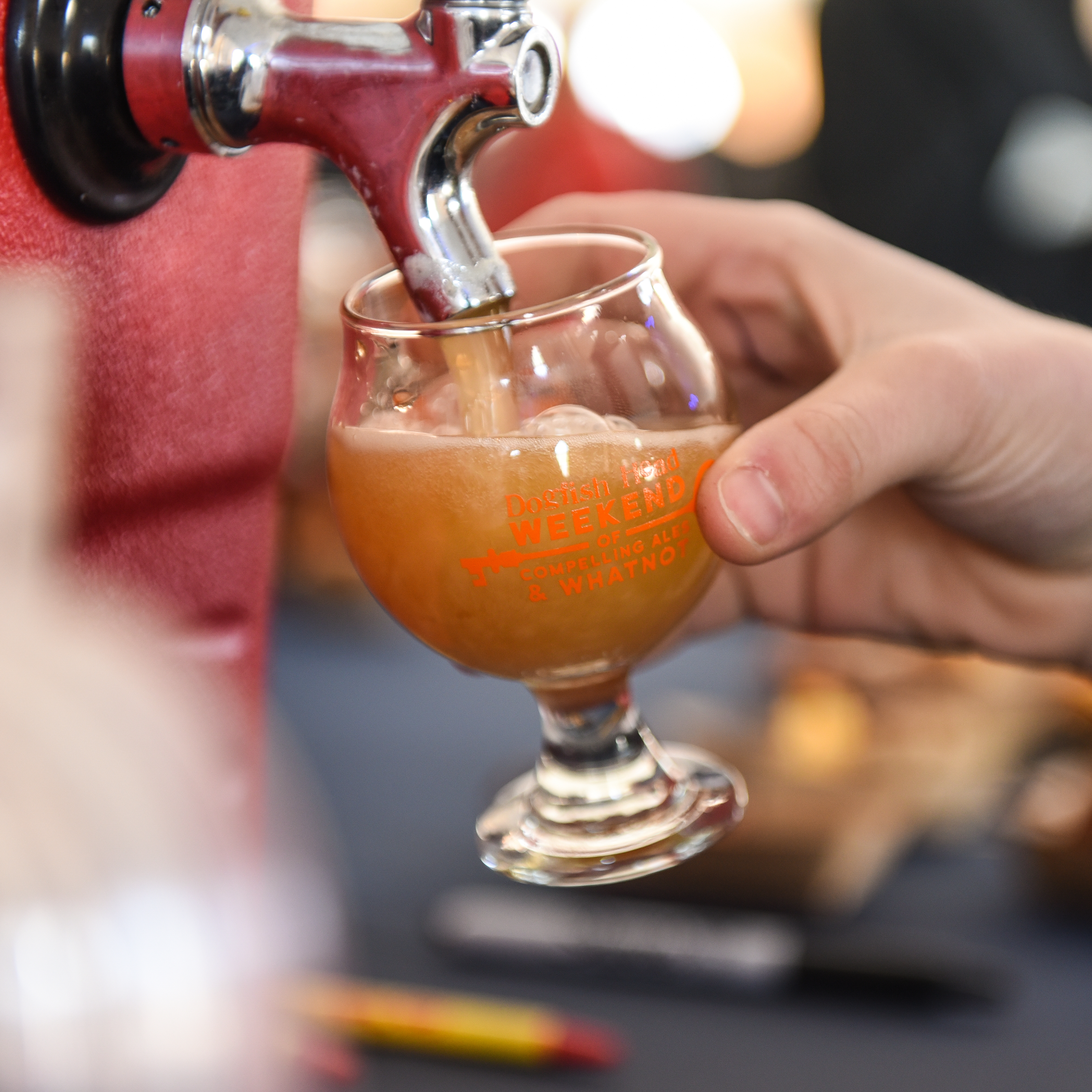 Are you ready?! We've got quite the lineup for this year's Weekend of Compelling Ales & Spirits! A weekend chock full of all things compelling, your ticket includes a tasting card to sample 16 different selections of rare, off-centered concoctions ... including 13 beers (10 of which were specially made for this event) and 3 samples from our distillery. Brewmaster Mark gave us a sneak peek at the some of the offerings and waiting for March 21 to roll around, just got that much harder. Take a look at what you're in store for*...
All in Oats - 6.3% ABV
Oat-centric IPA brewed  with malted oats, heirloom oat groats, naked oats and flaked oats all mashed in oat milk.  Hopped generously with Citra, Mosaic, Bru-1, HBC-472 and Amarillo.
Vibrant P'Ocean - 4.7% ABV
Sour ale brewed with elderflower, elderberry, lemon slices and Belgian fleur de sel that's then blended with a two-year aged foeder beer from Brouwerij Rodenbach of Rosealare, Belgium.
Macaron Rose Framboise - 8% ABV
Sour ale brewed with puréed raspberries, toasted almonds, lemon zest, rosewater, milk sugar and Madagascar vanilla beans.
World Wide Stout aged in Utopia Barrels - 18% ABV
Our bold Imperial Stout aged in Sam Adams Utopias barrels.
CUPRICious & CanTANKARDous - 7% ABV
Mule-esque sour ale brewed with ginger juice, lime juice, lactose, lime peel and kaffir lime leaf.
Beer for Breakfast: Farmer's Platter - 13% ABV
Imperial stout brewed with scrapple, maple syrup, oatmeal, milk sugar, brown sugar, applewood smoked malt and cold-press Rise Up Roasters coffee aged in maple bourbon and rye whiskey barrels.
Honey Dip Trip  - 10% ABV
Open-fermented Belgian-style Trippel brewed with Anson Mills Abruzzi rye, Himalayan peppercorns, orange peel, coriander and Organic African forest honey and aged in Dogfish Head Distilling Honey Rum barrels.
Showy Prose - 7% ABV
Cocktail-inspired sour ale brewed with citrus juices and milk sugars, blended with an Amaro-esque infusion of citrus peels, botanicals, herbs and spices then aged in Dogfish Head Distilling Co. Alternate Takes Whiskey Barrels.
Knuckles, Bats & Homemade Tats - 6% ABV
Collaboration with The Veil. Barrel-aged, mixed-culture sour ale aged on red, white & black currants and hibiscus.
Rye Barrel-Aged 120 Minute IPA - 18% ABV
Imperial IPA aged in Sagamore Spirits Rye Whiskey barrels then assertively dryhopped with a blend of Pacific Northwest hops.
Shadow & Substance - 7% ABV
Barrel-aged dark sour ale with cherries, Mission figs and Costa Rican cascara for notes of dark fruit, tobacco and coffee.
Much Malarky - 5.5% ABV
Dry rye Irish-ish stout brewed with coriander, mustard seed and black pepper.
The Final Date - 4.7% ABV
Northern European Rye Pilsner brewed with floor malted Pilsner malt and malted rye hopped with German Noble hops.
And some goodness from Dogfish Head Distilling Co.
Strawberry Honeyberry Vodka Lemonade - 7% ABV
Inspired by summer visits to Sam's friend's honeyberry farm in Coastal Maine. Dogfish Head vodka is distilled with honeyberries & strawberries, then blended with our house made lemonade.
Kumquat Whiskey Sour Kakutera - 7% ABV
Inspired by Lars' vacation in Japan, this Kakutera (Cocktail in Japanese) is built using our reliably smooth Straight Whiskey and blended with kumquat juice, lemon juice, simple syrup and a dash of hopped grapefruit bitters.
Alternate Takes 2: Whiskey Finished in Palo Santo Marron Barrels - 40% ABV
A savory Batch-distilled using a grain bill of malted barley, applewood smoked , coffee kilned and crystal malts. This whiskey is aged in American Oak before being finished in casks which previously aged our Palo Santo Marron Ale. A savory sipper that's balanced by flavors of caramel, smoke, green tea, white chocolate and dark wood. Served neat or over ice!
*Beers and cocktails are subject to change based on availability and awesomeness