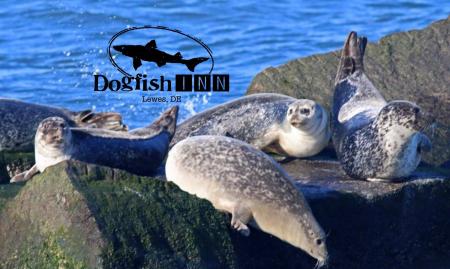 The 8th annual Winter Delmarva Dogfish BirdINNg Weekend will be held January 27-29, 2023. We will enjoy great looks at the waterfowl, seabirds, shorebirds, raptors — and seals! — that are on full display in the mid-Atlantic during the winter months.
In 2023, we are super excited to partner again with our friends at the Dogfish INN! Located in historic downtown Lewes alongside the canal and a short walk from Fisherman's Wharf, the Dogfish Inn is the perfect basecamp for exploring all that coastal Delaware has to offer.
101 species were tallied during the 2021 event, including Great Cormorant, Purple Sandpiper, Razorbill, American White Pelican, as well as Harbor and Gray Seals.
Sponsored by the Dogfish INN and Dogfish Head!
For registration information, please visit:
https://delmarvabirding.com/winter-dogfish-dbw-jan-27-29/