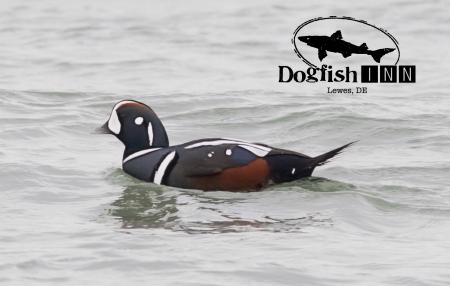 *UPDATE: Reservations at the Inn are all booked up for this event, but save the date for another #dogfishbirdINNg Weekend on March 5-7!*
This year, the Dogfish Inn and Dogfish Head are excited to partner with our friends at Delmarva Birding Weekends for the annual Winter Delmarva Dogfish BirdINNg Weekend, January 29 –31, 2021
Throughout the weekend, attendees can book a wide range of a la carte field trips across the Delmarva Peninsula, including walks throughout state parks and wildlife preserves, tally rallys (with beer, of course!) and the "Scoters, Seals & Slightly Mightys" Delaware Bay boat trip. During the 2020 Winter DBW, over 116 species were tallied including Harlequin Duck, Great Cormorant, Snow Bunting, and 30 species of waterfowl.
This package includes:
10% off at our Dogfish Head locations: Brewings & Eats in Rehoboth Beach and the Tasting Room & Kitchen in Milton. Available for both curbside/to-go & dine-in. Not to be combined with any other discounts.
Custom Patagonia beanie plus some sweet patches to commemorate the weekend!
Swag in the rooms! We've got all the Dogfish Head branded-merch you need for your outdoor adventure including a fandana, lip balm, logo decal, koozies, and more - PLUS some swag from Delmarva Birding Weekends!
Option to add a third night to your weekend stay for just $99!
Package cost is $89 plus room rates.
To book this package, simply type 'Delmarva Birding Weekend' in the special requests section during online booking, or give us a jingle at 302-644-8292!
**All field trips and events must be booked separately through Delmarva Birding Weekends
Can't make it for this one? Save the date for another Delmarva Dogfish BirdINNg Weekend on March 5-7, 2021!