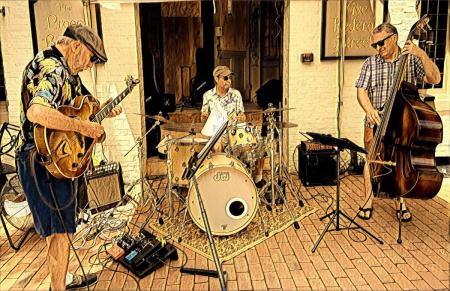 The Van Williamson Trio, featuring bassist Bob Abbott and drummer/ percussionist Dean Haemel, has been performing music on the Delmarva Peninsula and beyond for many years. The repertoire consists largely of jazz standards from composers including Duke Ellington, Cole Porter and Jerome Kern, as well as Miles Davis and Wayne Shorter, and bossa nova and samba from Antonio Carlos Jobim and Luiz Bonfa. Their music also includes compositions from contemporary artists like John Scofield and Chick Corea, and show tunes from theater and film from the 20th century. A few selections of their music and calendar can be found at vanwilliamson.com.
Guitarist Van Williamson was for many years a producer on NPR's Morning Edition and other NPR programs, and was the director of Morning Edition before retiring to devote more time to music. As an independent radio producer, he created the long-running music-variety program Radio from Downtown at the Avalon Theatre in Easton, MD. He has worked in small and large ensembles around the area, including the Delmarva Big Band, the Queen Anne's Chorale and the Bay Jazz Project, and is currently performing with his own trio and a Latin Beatles band, Los DayTrippers.
Bassist Bob Abbott is a freelance bass player and arranger in the Mid Atlantic region. His performance experiences range from local events at the Kennedy Center Millennium Stage, the Mansion at Strathmore, Blues Alley, Rehoboth Jazz Fest, the National Gallery of Art, Rams Head on Stage, and venues in New York City and Richmond, VA. He has also performed at several embassies and political functions in the Baltimore / Washington D.C. area, and has been a featured performer at International Festivals in Croatia.
Drummer Dean Haemel is a multi-genre performer and teacher who has been working with various groups in the area for several decades. Dean is currently performing jazz, rock, blues, fusion and big band music full time with groups such as the Van Williamson Trio, the Delmarvelous Dolls, the Chest Pains, Chris Button, Full Circle, Lennon LaRicci and Monkey Paw throughout the Eastern Shore of Maryland and the Mid-Atlantic region.