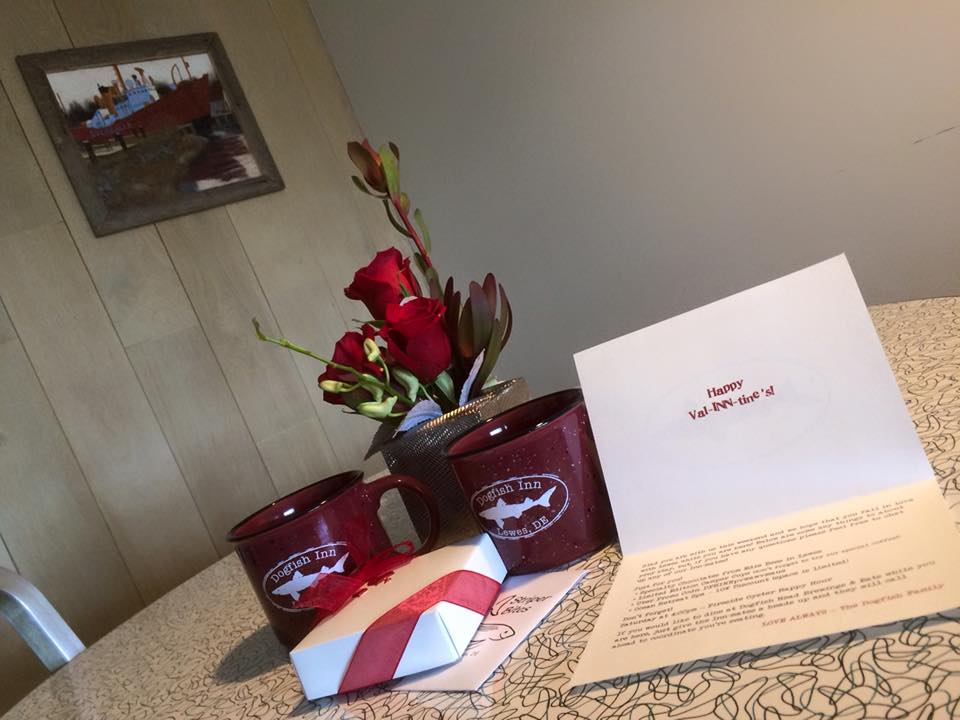 Love is INN the air! Celebrate Valentine's Day with that special someone by planning a getaway to the Dogfish Inn! When you book a stay with us now through Feb. 18, we'll take care of all the little details* that are sure to make for a memorable stay. Upon arrival, you'll be greeted with a dozen roses from Flowers on Savannah and local chocolates from Edie Bee's. You'll also receive two Uber codes ($10 per code) to cover an adventure to one of our two restaurants in downtown Rehoboth!
*$99 covers the flowers, chocolates and Uber codes.
Looking to stay with us on Valentine's Day? Not only will you still receive everything we mentioned above (roses, chocolate and Uber codes), we'll set you up with a reservation at our geographically enamored seafood restaurant Chesapeake & Maine! They'll be hosting an epic Valentine's Day dinner* that features a seafood tower for lovers! Chilled lobster, scallop ceviche with pomegranate, chilled marinated mussels and oysters … oh my! No need to worry about making reservations, we'll take care of that for you when you book your room.
*Cost of the dinner is not included in the room charge of Valentine's Day package.
Give us a jingle at 302-644-8292 to book your stay today!