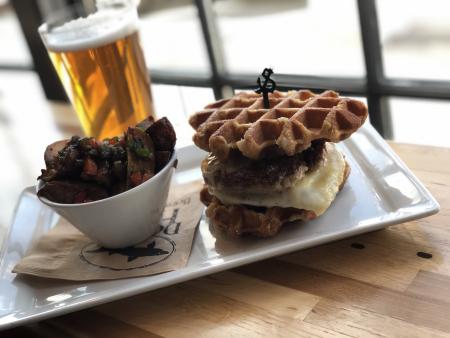 We're getting into some shenanigans this St. Patrick's Day weekend … so put on your best green garb and let's party!
Start your St. Paddy's Day celebration off strong, with an Irish-inspired brunch at Chesapeake & Maine on Saturday, March 16! From 11 a.m. to 3 p.m., we'll be offering a special menu chock full of off-centered Celtic classics. Check it out!
The Corned Beef Breakfast: House Cured and Braised Corned Beef, Redskin Potatoes, Cabbage Veggie Blend, Whiskey-aged Irish Soda Bread.
Buffalo Bangers & Mash: Herbed Mashed Potato, Lingonberry Mustard, Braised Red Cabbage, Buffalo Sausage
Traditional Irish Breakfast: Seared Vine Ripe Tomatoes, 2 Eggs Any Style, Whiskey-aged Irish Soda Bread, Bacon
Potato Leek Soup: Add Chipped Corned Beef for $2
Chocolate Stout Cake: Served with Spun Mint Chocolate Chip Ice Cream
Breakfast Sandy: Bacon or Buffalo Banger, Egg and Cheese
Maine Chopped Lobster Roll: Chopped Maine Lobster, Lemon Mayo, Fines Herb
Land & Sea Burger: Angus Burger, J. M. Clayton Co. Crab or Fresh Maine Lobster, Bibb Lettuce, Tomato, "Beernaise"
Simple Salad: Seasonal Artisan Mixed Greens, Palo Santo Marron Gastrique, Course Ground Salt
Goddess & Greens: Baby Romaine, Spinach, Parmesan Crisp, Pancetta Chip, Spun Green Goddess Dressing
Oysters: 'Buck a Shuck' Special
Sides: Braised Red Cabbage, Slaw, Old Bay Fries, Fruit Cup, Herbed Mashed Potatoes, Whiskey-aged Irish Soda Bread, Bacon, Buffalo Banger
Of course, no St. Patrick's Day celebration is complete without a little beer-driven bunkum, so we brewed Much Malarkey just for the occasion. An Irish-ish stout brewed from Irish ale and rye malts, roasted barley, and flaked rye, Much Malarkey boasts layers upon layers of deep roast, sweet biscuit and rye spiciness. Enlivened with coriander, black pepper and mustard seed, this 5.8% ABV exclusive will be on tap starting on Saturday, March 16 … grab a pint to enjoy with your brunch!
To get the full scoop on all of our Celtic celebrations, click HERE!