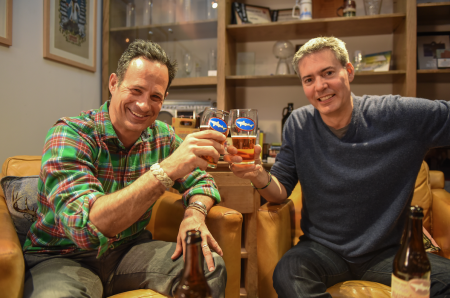 TICKETS ON SALE TUESDAY, JAN. 21 AT 11 A.M.
The music. The food. The beers. The stories. Last year we hosted a beer experience of epic proportions to celebrate our longtime collaboration with the Grateful Dead. Archivist and legacy manager of the Grateful Dead, David Lemieux, joined Dogfish Head founder Sam Calagione on stage for an unforgettable night that's gone down in Dogfish history. Since then, fans have been asking for an encore, and we're excited that David is ready to take on round two!
Join us on Friday, Feb. 28 at 7:00 p.m. for the Everything Delightful Dogfish Dinner at Dogfish Head Brewings & Eats.
Guests will enjoy a four-course experience complete with Grateful Dead inspired dishes (curated by our Brewings & Eat kitchen team and David), a myriad of off-centered libations and live music by High Tied Sideshow – central Pennsylvania's favorite Grateful Dead cover band.
Dogfish Head founder Sam Calagione will lead the beer experience, fielding questions from guests, along with David Lemieux and Dogfish Head brewer Mark Safarik.

In addition, guests will witness history as David will share an unreleased Grateful Dead playlist directly from the vault.
Tickets are $90 (per person*), and include four courses, four complementary brews, an exclusive event glass AND a special event poster signed by David himself, along with some other delightful surprises along the way.
*Ticket price includes glass, poster and gratuity.
Everything Delightful Dogfish Dinner Menu

First Course
Roasted Root Vegetable Salad - Hemp Seed Granola, Covered in Nuggs Vinaigrette, Herb
Paired with
Covered in Nuggs - An American IPA brewed with a sturdy base of Golden Promise malt and heaps of Citra, Simcoe, Amarillo and Centennial hops, 6.7% ABV
Second Course
Heady Carbonara - Spent Grain Pasta, Smoked Shallot, Herb Butter, Cured Egg Yolk
Paired with
The Final Date - Northern European Rye Pilsner brewed with floor malted Pilsner malt and malted rye hopped with German Noble hops, 4.7% ABV
Third Course
Braised Jackfruit - Wood-Fired Shrooms, Potato Puree, Crispy Onion
Paired with
Hazy Ripple IPA - Inspired by the Grateful Dead's beloved "American Beauty" album, this is an unfiltered India Pale Ale brewed with spelt then dosed with a special yeast variety to accentuate hop aromatics, 7.0% ABV
Fourth Course
Super Lemon Haze Goo Ball- Fruity Pebbles, Fruit Loops, Lucky Charm Marshmallow
Paired with
Mr. Chuckles - Sweet milk stout brewed with marshmallows, roasted peanut flour, bananas and sprinkles, 5.1% ABV