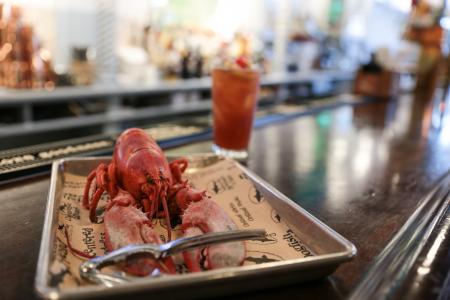 It's one of the most wonderful weeks of the year – Rehoboth Beach Restaurant Week! We're getting in on the fun with a three-course prix fixe menu that's chock full of delicious dishes. Check it out!
Course 1: A choice of one of the following three dishes …
Maryland Garden Soup – J.M. Clayton Co. crab (optional), oyster crackers and chopped herbs
Smoked Maine Trout Pate – Lavash
Simple Salad – Seasonal artisan mixed greens, Palo Santo Marron gastrique and course ground salt
Course 2: A choice of one of the following two entrees …
Whole Maine Lobster – Served with melted butter and lemon
Fried Garlic Reggiano Chicken – Buttermilk fried Coleman chicken breast, smoked bacon braised collard greens and 'The Casselman' aged cheddar polenta
Course 3: A choice of one of the following two desserts …
Shattered Dreams – Salted chocolate gelato, waffle cone, edible sand and chocolate jimmies
Main Squeeze – Avocado silk, lime emulsion, lemon sorbet and Joconde cake
Our Restaurant Week menu is available Monday, June 2 through Friday, June 7. Get all three courses for just $35 per person, or add cocktail pairings to each course and it'll be just $45 per person. Cocktail pairings TBD.
To make your reservation, give us a jingle at 302-226-3600.