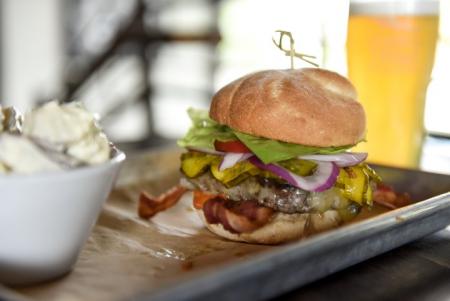 It's one of the most wonderful weeks of the year – Rehoboth Beach Restaurant Week! We're getting in on the fun with a three-course prix fixe menu that's chock full of delicious dishes and delectable brews. Check it out!
Course 1: Enjoy a flight of any four Dogfish Head beers! – Click HERE, to find out what's on tap.
Course 2: A choice of one of the following two appetizers …
Crab & Corn Chowder – Old Bay oyster cracker, bacon and micro celery
Pretzel Bites – Salted and served with 90 Minute IPA cheddar cheese sauce and honey mustard
Course 3: A choice of one of our wood-grilled burgers or wood-fired pizzas …
Burgers – Choose your patty and then your toppings!
Choice of Certified Angus beef burger, turkey burger, seasoned chicken breast or a Vegan Beyond burger.
Simple Burger: Lettuce, tomato and a choice of American, provolone or white cheddar cheese
Re-Indulgence: Buttermilk-soaked onion ring, beer-infused bacon jam, lettuce, tomato and 90 Minute IPA cheddar cheese sauce
Bread & Butter: House-made bread and butter pickles, special sauce, Swiss cheese, bacon, lettuce, tomato and red onion
Jam Session: Bacon, mixed berry compote, crumbled blue cheese and arugula
Super Sweet: Smashed avocado, sweet potato aioli, kale salad tossed with red onion, dried cranberry and basil vinaigrette, and Swiss cheese
Pizzas
Old Man & the Sea: Crab dip, house-made mozzarella cheese, pancetta, micro celery and Old Bay
Summer People: Garlic oil, house-made Mozzarella, ricotta and Parmesan cheeses, tomato, Brussel sprouts and lemon basil
A Day's Wait: 90 Minute IPA cheddar cheese sauce, mozzarella cheese blend, rotisserie chicken, pancetta and arugula
Under the Ridge: Roasted garlic puree, exotic mushrooms, house-made mozzarella and Parmesan cheeses, sherry reduction and parsley
A Simple Enquiry: San Marzano tomato sauce, basil, and house-made mozzarella and ricotta cheeses
The Light of the World: Basil-spinach pesto, house-made mozzarella and ricotta cheeses, tomato, prosciutto, arugula and a balsamic glaze
Our Restaurant Week menu is available for lunch or dinner Sunday, June 2 through Friday, June 7. Get all three courses for just $25 per person!