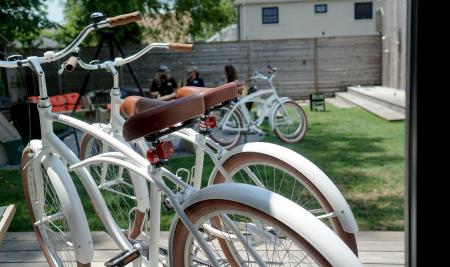 One of the best ways to get outside and explore Coastal Delaware is via 2 wheels! Delaware is the 2nd Most Bike Friendly State east of Mississippi, and Southern Delaware's flat landscape, accessible trails and scenic surroundings make us wanna say, "Mother Nature, Let's Do This!"
Are you ready to get in on some biking fun? If so, you're in luck! We've partnered with our longtime pals at Priority Bicycles to host a weekend for beer & bike lovers of all levels from September 10 – 12th at the Dogfish INN!
Priority Bicycles is a small NYC company with big dreams of making cycling simple, and if you've visited us at the INN before, you've most likely rode on one of their comfortable bikes, which are part of our INN fleet. Priority is helping us curate this weekend cycling quest, and we hope you'll join us for the ride. Here's what we've got in store…
Friday, September 10:
We're kicking off the weekend with the third release from our Beer & Benevolence 16 oz. Beer Series! Before you check-in to the Dogfish INN, head on over to our Off-Centered emPOURium in Rehoboth Beach for the launch of In Tandem. This collaboration beer with our local friends Revelation Craft Brewing Company will benefit Sussex County Land Trust and their efforts to build a trailhead along the Lewes-Georgetown Bike Trail that will provide greater access to the trail and connect communities by pedal. Each brewery will have their own unique version of In Tandem with special ingredients, so stop by both spots to grab a 4 pack to-go, try it on draft or both!
**Please note that Dogfish Head Brewings & Eats will be closed all day for a private event on September 10 for on-site dining & drinking. Our Off-Centered emPOURium will be open from 12 p.m. to 8 pm.**
Then meet us by the fire! Dogfish Head founder Sam Calagione and friends from Priority Bicycles and Sussex County Land Trust will join us for a Fireside Chat to talk about everything beer, biking and beyond to kick off the weekend.
Saturday, September 11:

Get ready for a fun day out on the trails! Join Sam, Priority Bicycles, and Sussex County Land Trust for an epic bike ride along the Junction & Breakwater Trail with stops at Revelation Craft Brewing Company and Dogfish Head Brewings & Eats. Grab a bite to eat and try a pint of both Dogfish and Revelation's versions of In Tandem, then choose to ride back to the INN with the group, or head back at your leisure!
Hungry after your ride? We've got some delicious dinner options at either Brewings & Eats, Chesapeake & Maine, the Milton Tasting Room & Kitchen, or stop by the INN desk for recommendations on other local spots.
Sunday, September 12:
Time to pack it up and head on out! Don't forget to stop by the Merchandise Shop at the Milton Tasting Room & Kitchen to try some of our R&DFH offerings only available at the brewery, and stock up on all the off-centered goods.
---
Package Includes:
· 2-Night Stay at the Dogfish INN – Friday 9/10 & Saturday 9/11
· Swag in the rooms! All the Dogfish Head branded-merch you need for your outdoor adventure including a fandana, lip balm, logo decal, koozies, and a few items from our pals at Priority Bicycles! ***
Package Cost (Total with tax included):
· King Rooms – $673.24
· Double Queen Rooms - $716.44
· Super SWEET – $1,204.00
· Cottage SWEET – $1,118.20
To book this package, give us a jingle at 302-644-8292.
*For this weekend, guests will have the opportunity to purchase a special edition Dogfish Head x Priority Bicycles Cruiser, like the ones at our Inn at an exclusive rate, or they are welcome to bring their own ride! When you book, please let us know if you are planning to bring your own bike or purchase the Dogfish Head exclusive Cruiser, as well as your riding level - Novice, Intermediate, or Advanced, so we can be sure to scale our ride pacing and support to your needs!*
***This package includes one set of swag per room. Ask an INN coworker if you're interested in adding on some more swag!
---
Priority Bicycles Special Offer for INN Guests!
Interested in a special edition Dogfish Head x Priority Bicycle? Priority is offering $200 off this exclusive cruiser just for INN guests. Check out the link below and if you're interested in purchasing, let the INN know when booking and they will provide you with a special code. Bicycles can either be shipped directly to your home or assembled for you when you arrive to the Dogfish INN!