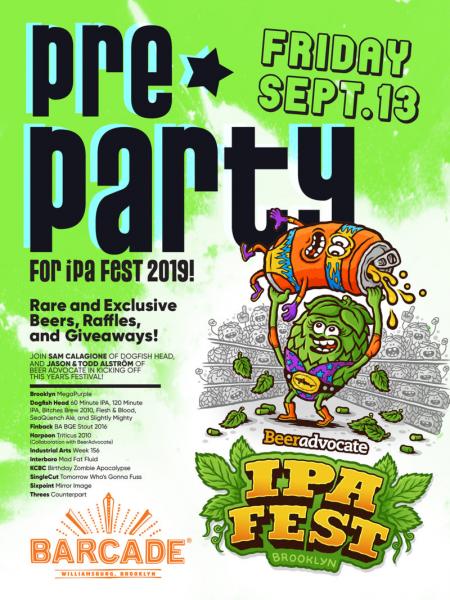 Save the date and join Jason & Todd from BeerAdvocate, Sam from Dogfish Head, our crew + friends for the official IPA Fest: Brooklyn pre-party!

Where? We're taking over Barcade.

What to expect? An awesome lineup of beers, incredible people to hang with, and classic arcade games. No cover. Pay as you consume.
We will be raffling off merch, branded glassware, books signed by Sam, some specialty bottles of beer from Sam's private stash and some big-deal surprises!
Our special tap list will showcase several extremely rare/aged kegs, local New York brewery taproom exclusives shared with us, and several Dogfish Head beers including:
Dogfish Head 60 Minute IPA – 6.0% ABV – Dogfish Head's classic hop-saturated IPA
Dogfish Head Bitches Brew 2010 – 9.0% ABV – Imperial Stout brewed in honor of the 40th anniversary of Miles Davis' classic album. This keg has been aged at Barcade since 2010!
Dogfish Head Flesh & Blood – 7.5% ABV – IPA brewed with lemon flesh, orange zest, and blood orange juice
Dogfish Head Raison D'EXTRA – 20.0% ABV – The biggest, darkest, most raison-y beer ever made!
Dogfish Head SeaQuench Ale – 7.8% ABV – Sour Ale brewed with lime peel, black limes, and sea salt
Dogfish Head Slightly Mighty – 4.0% ABV – The mightiest Session IPA in all the land!
Brooklyn MegaPurple – 7.8% ABV – Sour Ale brewed with Brettanomyces and wine grapes and aged in Sauvignon Blanc wine barrels
Finback BA BQE Stout 2016 – 9.2% ABV – Imperial Stout brewed with coffee from Queens-based Native Coffee Roasters and cocoa nibs from Brooklyn-based Mast Brothers aged in bourbon barrels. This keg has been aged at Barcade since 2016!
Harpoon Triticus 2010 – 11.5% ABV – Wheat Wine brewed in collaboration with the founders of Beer Advocate. This keg has been aged at Barcade since 2010!
Industrial Arts Week 156 – 6.8% ABV – Juicy and hazy IPA brewed in celebration of Industrial Arts' 3rd Anniversary
Interboro Mad Fat Fluid – 7.0% ABV – Super citrus-y hazy IPA
KCBC Birthday Zombie Apocalypse – 6.0% ABV – Sour Ale brewed with blueberries, black raspberries, strawberries, mangoes, vanilla, and lactose.  This beer was brewed in celebration of KCBC's 3rd Anniversary
SingleCut Tomorrow Who's Gonna Fuss – 10.0% ABV – Triple Dry-Hopped Triple IPA that might be a beer brewed by hops themselves
Sixpoint Mirror Image – 8.0% ABV – Imperial IPA brewed exclusively with Australian hops
Threes Counterpart – 4.5% ABV – Hazy American style Pale Ale