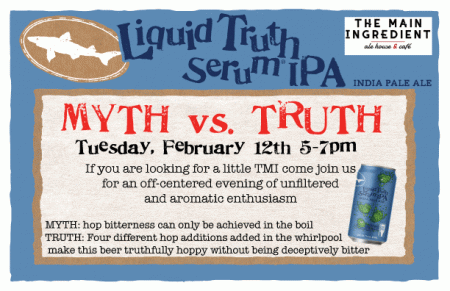 Occasionally too much info can be a good thing!
Join us at The Main Ingredient Ale House & Cafe on Tuesday, February 12 from 5-7 p.m. for a special sampling of Liquid Truth Serum.
MYTH: IBUs (hop bitterness) can only be achieved during the boil.
TRUTH: Uh-uh! An IPA that's bursting with ALL the hops, Liquid Truth Serum is brewed using a unique process that incorporates four different states of hops, whole leaf, liquefied, pelletized and powdered, and they're all added post-boil. The result is a blissfully inefficient IPA that's chock full of citrusy and tropical notes. It's truthfully hoppy without being deceptively bitter ... honest.