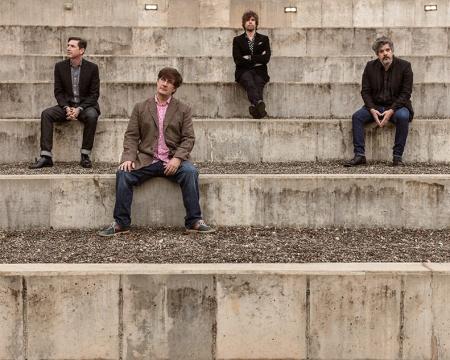 **SOLD OUT**
We're 'frozen with joy' … the Mountain Goats are making their way to the Brewings & Eats stage!
Established by singer-songwriter John Darnielle in 1991, the Mountain Goats are a country-wide folk phenomenon. Known for their organic and emotional lyrics, and their detail-rich story-songs, this quartet is travelling all the way from Durham, North Carolina, to play here at Dogfish Head! Described as elegant and eccentric, the band's hits include 'Source Decay,' 'Raja Vocative,' 'This Year,' 'Going to Georgia,' 'Old College Try' and many, many more.
The Mountain Goats will steal the spotlight at Brewings & Eats on Saturday, April 27 at 9 p.m. Grab your tickets* and join us for a night chock full of folk tunes and off-centered fun! Tickets available at: https://dogfishheadbrewpub.ticketleap.com/mountain-goats-at-brewings--eats/
General Admission: $26
VIP Admission: $51 – Only 45 VIP tickets available!
VIP admission includes access to our mezzanine, where you can relax, watch the band and enjoy some tasty appetizers from our 'Sharing is Caring buffet.' We'll also send you home with a double-sided, two-track vinyl from our very own beer-geek hip-hop duo the Pain Relievaz. This album – signed by Dogfish Head founder and CEO Sam Calagione – features two original songs, one of which was released in tandem a limited-edition beer that shares its name … 'The Best Ever Dark Munich Beer Out of Milton.' To check out the song, click HERE.
'The Best Ever Dark Munich Beer Out of Milton,' (both the song and the beer) were inspired by the Mountain Goat's 'The Best Ever Death Metal Band Out of Denton.' So to celebrate the Mountain Goat's coastal Delaware show, we're brewing a fresh batch of 'The Best Ever Dark Munich Beer Out of Milton' to be poured as the band plays … because what could be better than sipping on an delicious pint of an exclusive beer while listening to the musical stylings of the group that inspired it?
Brewings & Eats will be closed to the public on Saturday, April 27, starting at 5 p.m. Doors will open for ticket-holders at 8 p.m. Tickets are required!
*$1 from every ticket purchased will be donated to a charity of the Mountain Goats' choice – Hope Creek Academy. Hope Creek Academy is a nonprofit private elementary and secondary school in Durham, North Carolina, that is geared towards children who need structure, consistency, positive reinforcement, more movement, reduced stress, remediation and challenge, as well as a multi-sensory way of learning.