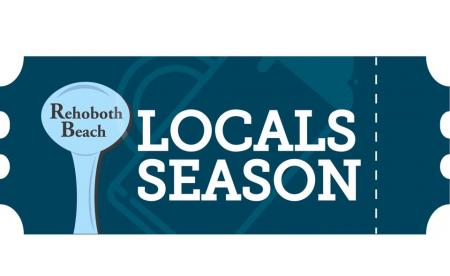 Mark your calendars! Rehoboth Beach businesses are joining forces to show appreciation for YOU – our LOCALS!

Come and kick off LOCALS SEASON with us and celebrate the day Rehoboth Beach becomes METER-LESS. We can all agree it's a GREAT day when you no longer need quarters or to remember your license plate! Participating restaurants have agreed to offer HAPPY HOUR SPECIALS ALL DAY LONG and to have local, LIVE music staggered throughout the town starting at 1p.m. At Dogfish Head Brewings & Eats, we're offering 1/2 off all brewpub exclusive beers all day long ... AND we'll welcome Skribe to our world-class music stage at 6 p.m. and Plot Twist will steal the spotlight at 8 p.m.

Participating businesses will also be selling a LOCALS DISCOUNT CARD that can be used at your favorite downtown places from the day the meters come down until the day the meters go up! Each time you use the card, you will receive 10% off at participating businesses on their select day, as well as receive a raffle ticket towards a monthly prize! The cards will be only $10 on Monday, September 16 ($15 after that)!

Businesses and musicians, if you are interested in participating in this event, please email us at Rehobothalehouse15@gmail.com or pete@thepondrehoboth.com.
LIVE MUSIC SCHEDULE
1 p.m. – Lower Case Blues at The Pond
2 p.m. – Clifford Keith at Rehoboth Ale House and Tim Cooney at Zogg's Raw Bar & Grill
3 p.m. – Kyle Offidani at The Spice & Tea Exchange
3:30 p.m. – The Girlfriends at The Pond, Keri Anthony and Jason Filasky at Rehoboth Ale House and Keith White Duo at Aren's Deli
4 p.m. – Bobby Lee Jones at Conch Island, Jason Willcox and Ken Riggione at Purple Parrot, Jodi Lynn at Zogg's Raw Bar & Grill and Taylor Knox at Cuvee Ray
5 p.m. – Chris Ryan at Shorebreak Lodge, Clifford Keith at aMuse, Kyle Offidani at Nicola's On The Avenue, Matthew Kenworthy at Rigby's Bar & Grill and Tim Cooney at Blackwall Hitch
5:30 p.m. – Bryan Scar at Cafe Azafran and Jodi Lynn at Steamin' Blues Crab House
6 p.m. – Bobby Lee Jones at Cooter Brown's, Chris Steele at Purple Parrot, The Girlfriends at Top Of The Pines, Hot Sauce at Rehoboth Ale House, Keith White Duo at Mariachi's, Sara Ann Trio at Conch Island, Pete Wiedmann at Zogg's Raw Bar & Grill and Skribe at Dogfish Head Brewings & Eats
7 p.m. – Jason Wilcox and Ken Riggione at Blackwall Hitch, Keri Anthony and Jason Filasky at Arena's Deli and Tim Cooney at The Pond
7:30 p.m. – Bryan Scar at aMuse
8 p.m. – Indian Rivier at Conch Island, Plot Twist at Dogfish Head Brewings & Eats and Show city at The Pond
8:30 p.m. – Skribe at Rehoboth Ale House