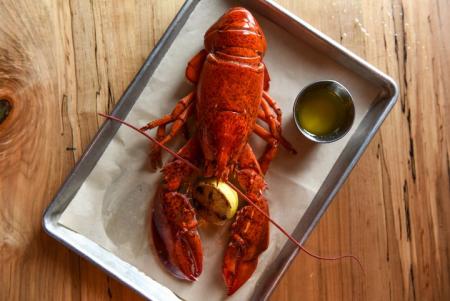 Here at Dogfish Head, our top priority is the health and safety of our visitors, co-workers and community. Based on government requirements, our locations will be closed until further notice and all events during the month of March and April have been canceled. This includes our Milton Tasting Room & Kitchen, Rehoboth brewpub, Chesapeake & Maine and Dogfish Inn. We've also decided to cancel all events during the month of March. We apologize for any inconvenience this may cause. We appreciate your understanding and willingness to work with us through this process. Stay tuned for updates.
It's a Lobster Party! We're serving up 1.25 lb lobsters every Sunday for just $12! That's right, join us on Sundays from 12-9 p.m. for one CLAWesome deal! We'll provide the hot butter and succulent lobster. You add on your choice of fresh sides and a cocktail … or two!
The nitty gritty on this wonderful deal...
This is a dine-in only deal ... sorry, can't take 'em with you.
We've only got so many lobsters every Sunday, so this is a 'while supplies last' kind of deal!