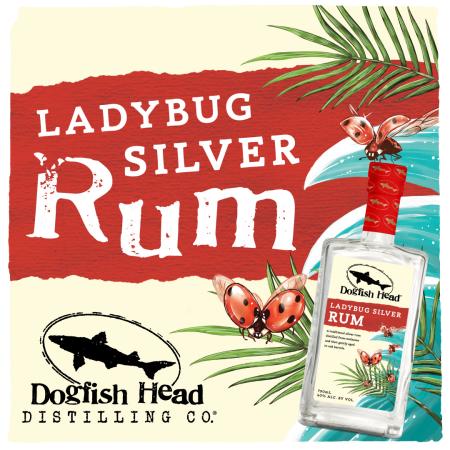 Releasing at the Tasting Room & Kitchen and at the off-centered emPOURium on Friday, June 2 our newest rum from Dogfish Distilling- Ladybug Silver Rum!! Our silver rum is an homage to the iconic Delaware state insect frequently found lounging by our seaside. Distilled from a base of Fancy Grade A Molasses. It greets your nose with notes of toasted marshmallow and sets your palette in flight with flavors of creme brulé, vanilla custard and caramel. This soft, yet complex rum is perfect for use in tropical Tiki-style drinks and in any cocktail that calls for a light rum. Priced at $30 per 750ml bottle.
Stop by Friday, June 2nd to grab a bottle! Those stopping by on Friday, June 2nd between 9pm-11pm, can enjoy live music from Shane Palko! RSVP for free to add to your calendar. 
Want to learn about all of Dogfish Head's events? Visit www.dogfish.com/events.