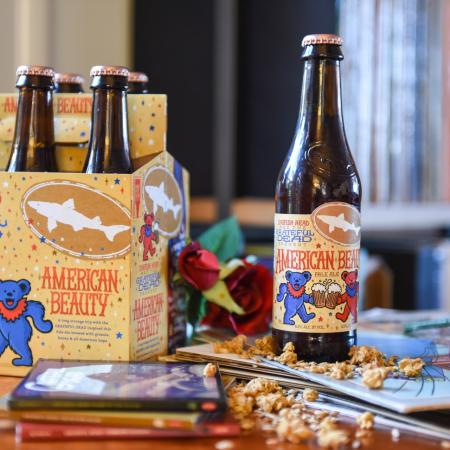 An unprecedented week of Dogfish Head events awaits craft beer lovers in Pittsburgh!
House of 1000 Beers in Warrendale welcomes YOU to celebrate their one-year anniversary by stopping by Wednesday, May 1 through Wednesday, May 8! Throughout the week, Dogfish will be hosting a slew of sweet events ... check it out!
Wednesday, May 1: SeaQuench Ale Day
Thursday, May 2: SuperEIGHT Day
Friday, May 3: Slightly Mighty Day 
Saturday, May 4: American Beauty and Wood-Aged Bitches Brew Night featuring a live band 
Sunday, May 5: Pittsburgh Marathon After Event - A FREE BEER for each registered marathon participant ... SeaQuench Ale or Slightly Mighty anybody?
Monday, May 6: Raison D'Extra Day
Tuesday, May 7: Heaven and Hell Night
Wednesday, May 8: Dogfish Head Beer Dinner (details below)
First Course: BRISKET BACON BLT - House-Smoked Brisket Bacon, Tomato, Lettuce and Herb Mayo on Zucchini Bread & Crisps paired with Bourbon Barrel-Aged Palo Santo Marron
Second Course: BOUDIN & GRITS - House-Made Boudin Sausage, Chow-Chow, Gouda Grits & Root Beer Gastrique paired with 120 Minute IPA
Third Course: SPRING VEGETABLE TAGINE & KHOBZ - Potatoes, Carrots, Chickpeas, Peas and Asparagus with Morrocan Spices and Flat Bread paired SuperEIGHT 
Fourth Course: CONFIT CHICKEN THIGH - Crispy Confit Chicken Thigh with Castlevetrano Puree and Pea-Shoot Salad paired with Wood-Aged Bitches Brew
Fifth Course: RED CURRY ICE CREAM paired with American Beauty
For tickets, please click link below:
https://www.eventbrite.com/e/ho1kb-warrendale-1st-anniversary-dogfish-head-dinner-pairing-tickets-60073947795?utm-medium=discovery&utm-campaign=social&utm-content=attendeeshare&aff=escb&utm-source=cp&utm-term=listing