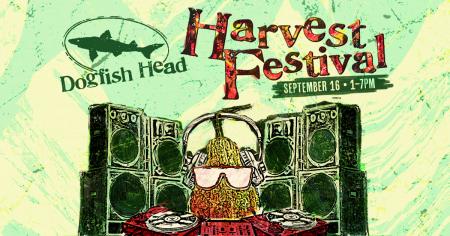 As we wind down summer and kick-off harvest season, we're ready to welcome our neighbors and friends to the Milton Tasting Room & Kitchen for a day full of musical fun and off-centered happenings for everyone to enjoy. Come on out to Dogfish Head's Harvest Festival on Thursday, Sept. 16 - attendance is free!
Starting in the brewery parking lot, our pals from Secretly Group are joining us for their Paved Paradise record label expo. The label consortium comprised of Dead Oceans, Ghostly International, Jagjaguwar, Numero Group and Secretly Canadian, have embarked on a traveling outdoor label expo across the Eastern United States, and we're one of their stops! Paved Paradise will bring the record store experience outdoors with bins packed full of LPs, hundreds of 45s, cassettes and CDs, limited merchandise and DJs spinning all afternoon. And you won't want to miss a special Q&A starting at 6 p.m.! Dogfish Head founder Sam Calagione, along with Numero Group founder Ken Shipley, and Paved Paradise organizer Amanda Colbenson, will be answering all your questions and chatting all things beer, music and everything in between.
Heading into the Tasting Room, DJ Right on Radio will be digging deep into our vinyl stash for a special Vintage & Vinyl while we pour some off-centered vintage favorites. Off-Centered Society members can enjoy double points on purchases all day, and we'll be serving up some fun harvest-themed food & drink specials.
And last but not least - Calling all Miltonians! We're excited to once again celebrate our annual Milton Appreciation Night! Milton residents can stop by between 5 – 6 p.m. and show their ID with a Milton zip code to receive a free treat – Apple fritters!
Here's a list of all our Harvest Festival happenings!
Paved Paradise Record Label Pop-Up from 1 – 7 p.m.
Milton Appreciation Night – Free apple fritters for Milton residents from 5 – 6 p.m.
Q&A with Dogfish Head founder Sam, Numero Group founder Ken & Paved Paradise organizer Amanda starting at 6pm
Steampunk Treehouse tours all day
Off-Centered Society Double Points Day starting at 11 a.m.
Vintage & Vinyl in the Tasting Room with DJ Right On Radio from 1 – 7 p.m.
Giveaways, food & cocktail specials all day