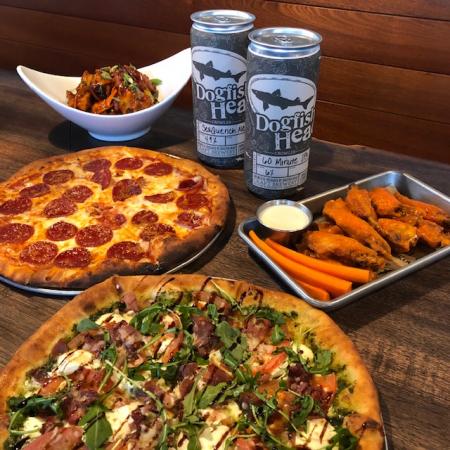 It's almost game time, and we're comin' atcha with a touchdown of a to-go special! Get two hand-tossed pizzas, two orders of wood-fired wings (20 wings total) and two 32 oz. crowlers for just $40 … sounds like the perfect game day treat!
SO. MANY. CHOICES! Choose two pizzas, two types of wings and two beers from the list below.
Pizzas: Pepperoni, Simple Enquiry (San Marzano tomato sauce, micro basil, house-made mozzarella and ricotta cheeses) OR The Light of the World (basil-spinach pesto, house-made mozzarella and ricotta cheeses, sliced tomato, prosciutto, arugula and a balsamic glaze)
Wings: Dry Rub, Buffalo OR Asian Stir-Fry
Beers: 60 Minute IPA, 90 Minute IPA, Namaste White, SeaQuench Ale OR Flesh & Blood IPA
Just give us a jingle at 302-226-2739 to place your order* and pay at pick up on Sunday, February 3. One of our co-workers will give you a call back on Saturday to confirm your order and arrange a pick up time.
*All orders must be placed by Thursday, January 31. Each order is expected to feed 3-4 folks!