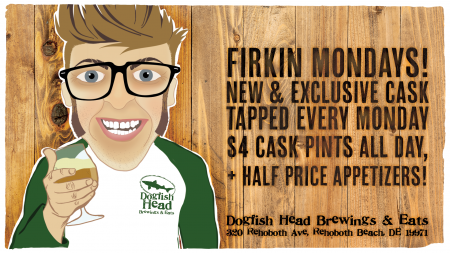 Firkin Mondays are the worst … but we've got something that should cheer you up! Every Monday we'll be tapping a new cask-conditioned beer. You can only get it here and once it's gone, it's gone … so hurry on in after work on Mondays to sooth your end-of-the-weekend blues with a couple of ice-cold brews! Pints of each week's featured beer are only $4 each all day long! But that's not all, folks! While you're raising your glass and sipping on those suds, you can enjoy half-priced appetizers too!
And if you're a member of our Off-Centered Society, we've got even more goodness to offer! In addition to tasty, cask-conditioned beers and half-priced appetizers, every Monday is Double Points Night. So stop on by and you'll get double points on your purchases all day long ... that's two points per dollar spent! We've got a feeling some rewards are coming your way!
If you aren't a member of our Off-Centered Society, but you want to get in on the awesomeness, click HERE for more information about joining and to learn all about the perks of being a member!