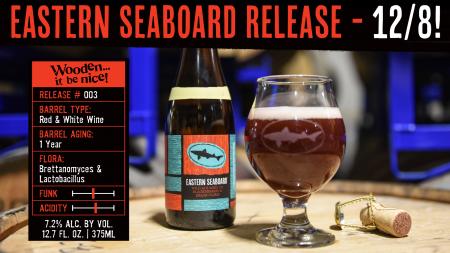 The third beer out of our 'Wooden … it be nice!' wild beer program, Eastern Seaboard is a wild ale aged on blackberries and beach plums. Available in our Milton Tasting Room & Kitchen starting on Saturday, December 8 at 11 a.m., we've only got 4,000 (375ml) bottles of this limited-edition brew up for grabs!
To create Eastern Seaboard, we started with a rustic Farmhouse base ale. After spending nearly a year and a half aging in red and white wine barrels, this beer was racked onto several hundred pounds of blackberries and locally-sourced beach plums. Ruby red in color, Eastern Seaboard is deceptively dry and bottle conditioned to achieve a champagne-like carbonation.
Hand-bottled – cork and cage style – and hand-painted with a special stripe signifying its uniquely-crafted touch, Eastern Seaboard clocks in at 7.2% ABV and is priced at just $10 per bottle. Get yours while you can!