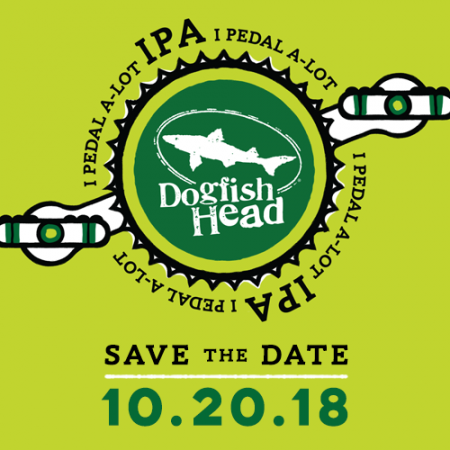 New this year ... we're teaming up with our adventurous friends at Velo Amis to bring you a whole new Dogfish Head experience on two wheels! Introducing ... the Dogfish Head I.P.A.! A gran fondo style bicycling tour of southern Delaware, rides will start and finish at our Milton brewery with distances of 60 KM, 90 KM, and 120 KM (see what we did there?).
Registration opens Wednesday, May 16 at noon, as well as our route reveal!
*Our EARLY BIRD REGISTRATION FEE is $75 and it will last for 1 MONTH ONLY! The registration fee will increase to $100 on 6/15/18 at 12:01am (EST). The registration fee will then increase to $125 for Day of Registration.*
Your entry includes not only a sweet bike route, but also an event water bottle, event cycling socks, tasty post-ride grub, live music, and two Dogfish Head craft beers (for riders over 21 only). Our Milton brewery tasting room will be open after the event, so that means NO OUTSIDE ALCOHOL of any kind at the event!
Remember, this is not a race. Enjoy a gran fondo style ride taking in the history and culture of southern Delaware with your friends, family and perhaps new friends you meet along the way!
Registration is limited to 1,500 riders. The first 200 registered riders will receive a cool Dogfish Head cycling cap!
Funds raised during the event will go toward bicycle safety programs across the state of Delaware via Sussex Cyclists and the Urban Bike Project. For the Urban Bike Project portion of our donation, we are partnering with PLEDGEREG - an online fundraising tool. Each rider will be given a link to their personal PLEDGEREG fundraising page. You may also partner with others to create fundrasing teams. While riders are encouraged to fundraise for this event, it's certainly not a requirement for participation!
The routes are mostly flat and almost entirely on rural roads, however the 120 KM route may include a small section of trail and includes a ferry crossing of the Nanticoke River. The course will be well-marked and aid stations will be well-stocked, but ultimately you are responsible for your ride, so please be sure to download maps and cue sheets (these will be available once online registration closes)!
120K - Check In time is 7 am.  
90K - Check In time is 8 am.
60K - Check In time is 9 am.
Want to get involved without riding? We're looking for volunteers! Volunteers will receive a free volunteer shirt, food and drink and lots of LOVE! Stay tuned for additional information on volunteering!
Please visit the Dogfish Head I.P.A. Facebook Event Page for up-to-date information from us and our friends at Velo Amis!
We can't wait to see you in October!