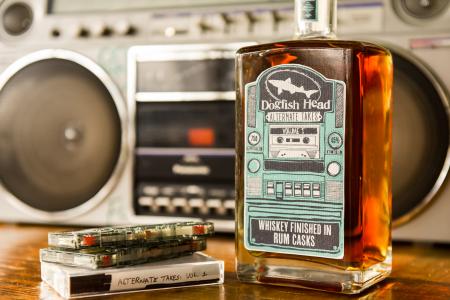 Mic check, mic check … listen up y'all! Dogfish Head Distilling Co. is launching its first, full-proof experimental whiskey on Thursday, November 29! Stop by our Milton Tasting Room & Kitchen starting at 11 a.m. to grab your bottle of Alternate Takes: Volume 1, Whiskey Finished in Rum Casks!
In the analog age of music, artists recorded take after take, experimenting with alternate sounds until a great record emerged. Playing on the artistically creative concept of an "alternate take," Dogfish experimented with adding its own new take on whiskey by exploring alternate barrel finishes, in this case by using barrels which previously aged our Barrel Honey Rum.
Alternate Takes: Volume 1, Whiskey Finished in Rum Casks is brewed, distilled and aged 100% onsite. This whiskey starts in our brewery as a complex ale consisting of mostly specialty malts, including Applewood smoked, coffee kiln and crystal malts. We then ferment it with our proprietary and flavorful Doggie Ale yeast right alongside beers like 60 Minute IPA and SeaQuench Ale. This process, along with our batch-distillation, creates a base whiskey that's more delicate and nuanced than a typical American-style whiskey.
Alternate Takes: Volume 1 is then aged onsite in new charred American oak barrels, and finished in rum casks which previously aged our Barrel Honey Rum (a rum made with sugar cane molasses, honey and aged in American Oak.). The result is a medium-bodied malt whiskey with layers upon layers of complexity and an exceptional smoothness.
Perfect to enjoy neat, over ice or in a classic cocktail, Alternate Takes Volume 1 is priced at just $44.99 per 750ml bottle and will be distributed throughout Delaware, Maryland, Virginia and Washington D.C. Get it here first, or look for it on shelves near you starting in December!