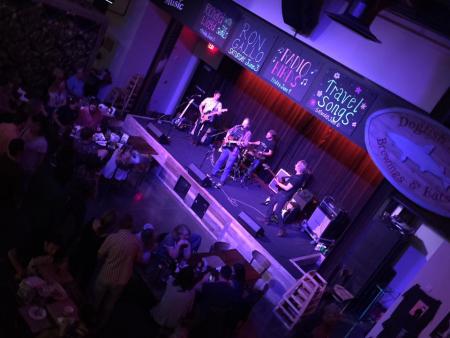 From up and coming young artists to more experienced musicians, we'll be featuring local music every Wednesday night from 7-9 p.m.!
Check out our June lineup!
June 5 – Cody Leavel and Joe Holt
Cody Leavel and Joe Holt have been described as having good conversations, musically, on stage. They have played together since 2012. Cody is a graduate of Shenandoah Conservatory of music and former member of the Glenn Miller Orchestra having toured the US, Canada and Japan full time for 4 and a half years. Joe lives in Chestertown, MD and has a regular Monday gig at The Mainstay in Rockhall, MD. Mainstay Mondays feature Joe along with other local and regional performers. He has also had a very fine career as a solo pianist playing in the mid-Atlantic. Joe, a native of New Jersey started in jazz playing in a trio with two high school friends playing the music of Benny Goodman. Cody started playing music after hearing Benny Goodman play clarinet. This connection plays out with Cody and Joe as they play songs from the American song book along with some other favorites.

June 12 – Kathleen Carter
Kathleen Carter is a senior at Indian River High School. She plays classic rock music as a solo acoustic act and also performs in a classic rock band called 'Twice Removed.' With songs from the 60s-today, she is sure to play at least one of your favorite tunes.

June 19 – Leah Kompare
Leah Kompare is an 11th grader at Cape Henlopen High School who participates in the Cape Chorale, Girls Choir and is a returning All-State Chorus member. She plays ukulele and sings songs ranging from Elvis Presley to Ed Sheeran. You're sure to enjoy her performance!

June 26 – Johnny Phatt
If you've ever spent any time in Dewey Beach, you've probably seen Johnny Phatt. He was the longtime bass player for local favorites 'Mr. Greengenes.' Now, Johnny performs solo shows in the tri-state area, as well as plays in a few different bands. During the summer season, you may see him at The Starboard with Kristen ('Kristen and the Noise') for their awesome Sunday night acoustic shows. If you're looking for a taste of summer fun, come out, grab a craft brew and enjoy listening to Johnny play your favorite classic and modern tunes.