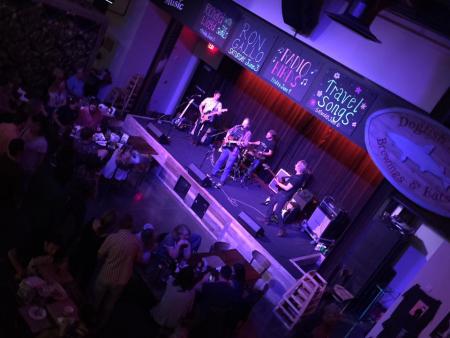 From up and coming young artists to more experienced musicians, we'll be featuring local music every Wednesday night from 7-9 p.m.!
Check out our May lineup!
May 1 – Alex Razze
Alex first picked up the guitar while attending art school in the 90s. While moving about the country and establishing a career as a visual artist, playing guitar and making music with others remained a creative outlet and bridge for meeting like-minded folks. He returned to east coast in 2009 and settled in Milton, Delaware to raise a family. He quickly recognized the vibrant music scene in the area and soon found a place in the local lineup to share his music. His performances blend eclectic rock, country and folk favorites with an honest, easygoing vibe.
May 8 – Monkee Paw
Ranging from duo to quartet arrangements, Monkee Paw has spent almost a decade performing in the Ocean City, Maryland and Delmarva areas. Spanning a wide variety of genres, with a strong focus on vocal harmony and musicianship, Monkee Paw has performed more than 1,500 shows together as a well oiled music machine. Monkee Paw invites you to come see what has kept this machine going year to year in such a musically-driven town. Paws up!
May 15 – The Honey Badgers
The Honey Badgers' folk/Americana sound has been likened to that of The Civil Wars and The Swell Season. They are known for their intense, unique harmonies, and their sincere lyrics and melodies. With Michael playing guitar, mandolin, and the occasional banjo, and Erin on violin, glockenspiel and harmonium, The Honey Badgers have created a sound that is distinctive, satisfying and fun.
May 22 – Rivers and Rhodes
Ashley Mitchell and Donny Marvel are songwriters/performers from Caroline County, Maryland. Having performed all along the East Coast, they have managed to display their love and passion for music through original compositions and performing with the popular cover band, Ashley Mitchell Band. Ashley possesses a remarkable range and captivating tone that amazes audiences. Donny is a very talented guitarist who's songwriting abilities create a unique and diverse style for the duo. This talented songwriting team created Rivers & Rhodes in 2015 and has already managed to receive award-winning recognition for their original materials. Ashley Mitchell and Donny Marvel's original music possesses a modern blues flare that has left audiences speechless and eager for more.
May 29 – Gerry Timlin
A great favorite in the United States and Canada, this Delaware-based singer has enjoyed success all over the world. He was born in County Tyrone, Northern Ireland, where he developed an early interest in traditional Irish and folk music. From the beginning, Gerry displayed a musical talent, winning several singing competitions in Northern Ireland when he was still in his teens. He moved to the United States in the early 70s, and has been delighting audiences with his smooth baritone voice and irreverent humor ever since. In 2014, he was honored to perform with his singing partner, Tom Kane, at the Congressional Friends of Ireland Luncheon on Capital Hill for The President, Vice President, Speaker of the House, Prime Minister of Ireland and members of Congress.