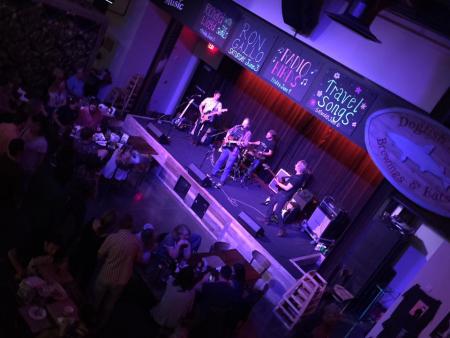 From up and coming young artists to more experienced musicians, we'll be featuring local music every Wednesday night from 7-9 p.m.!
Check out our April lineup!
April 3 – Tyler Greene
Tyler Greene is a singer-songwriter from Millsboro, Delaware. A multi-instrumentalist, but a guitarist at heart, he plays an eclectic range of genres, marking songs with his familiar style and delighting audiences with personality. Whether in a DJ set, band or acoustic you don't want to miss your chance to see Tyler Greene Music.
April 10 – Brooke Robbins
Originally from Washington D.C., Brooke now calls Lewes, Delaware his home. With piano and trumpet as his initial instruments of choice, he also picked up the guitar fairly early and incorporated his love for singing into his performances. Participating in city-wide coral ensembles, concert bands, orchestras, brass and jazz ensembles (as well as in several Rock & Roll bands) firmly established his musical foundation. A mix of Eric Clapton and Bob Seger, with a little bit of Don Henley thrown in, would easily describe the quality of his voice. His selections from across the years foster fond memories. Still refining his craft today, both popular hits and semi-forgotten favorites make up his self-proclaimed "slightly eclectic repertoire." Not exclusively a cover singer, his original compositions occasionally make their way into a set. He's certainly a performer not to be missed.
April 17 – Keri Anthony
Keri Anthony is a lifelong musician who uniquely covers songs with a bluesy, soulful feel and distinctive personal flare. A huge local favorite, we are glad to welcome her to Dogfish Head.
April 24 – Slinging Daisies
The Slinging Daisies describe themselves as "a hyper acoustic, energetic Quattro of original Americana groove." This loosely translates to a blend of honkytonk rock, Texas outlaw and singer-songwriter insights. The group's music features catchy choruses and strong lyrics. Slinging Daisies regularly play throughout Sussex County, with occasional forays into Kent County.