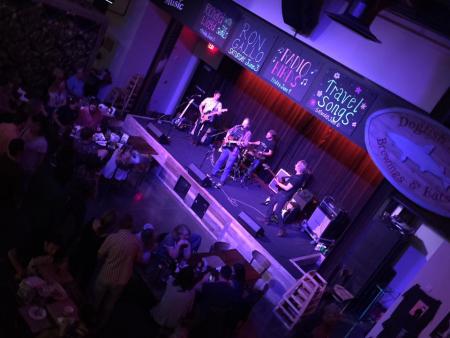 From up and coming young artists to more experienced musicians, we'll be featuring local music every Wednesday night from 7-9 p.m.!
Check out our March lineup!
March 6 – Jeff Evans
A longtime fan of Dogfish Head and local music, Jeff Evans will steal the stage and take his turn performing for other local music lovers. Don't miss his first performance at Brewings & Eats!
March 13 – Chris Steele
Chris Steele is the local guy that everyone has been talking about. Stop in and catch his mix of pop, reggae, rock and blues tunes!
March 20 – Samantha Seider
Samantha Seider's sweet and soulful voice grabs your ear after just one note. With more than 10 years of performing experience, for audiences in DE, MD, NJ and PA, she is sure to entice every listener the whole night through. Covering artists across a spectrum of genres, she creates a musical experience that can be loved by all.
March 27 – Miranda Haney
Heavily influenced by the country music of her childhood, Miranda Haney uses music as a way of understanding. Her original songs range from folksy sing-a-longs to bluesy ballads to whatever genre she feels like playing around with next. She has performed in bars and restaurants from Baltimore to Ocean City, on big stages with bands and in garages with friends, and she loves any opportunity to share her music with small towns and big cities alike.
Miranda has over 5 hours of music in her repertoire, which she's been building since age 13. She covers anything from Bruce Springsteen to Britney Spears, and she always takes requests. Bringing a neo-Americana twist to classic bar songs, Miranda urges her audiences to sit back, raise a glass and sing along.