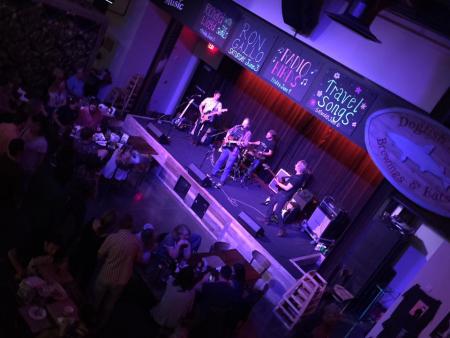 From up and coming young artists to more experienced musicians, we'll be featuring local music every Wednesday night from 7-9 p.m.!
Check out our February lineup!
February 6 – Bryan Russo featuring Jim Miller
Bryan Russo wears a lot of hats, but he wears them all well. He's a multi-award winning journalist (20 Associated Press Awards and 2 Edward R. Murrow Awards) and an acclaimed songwriter whose big bluesy voice wallops audiences with soulful lyrics that bite. He's an old soul with a sound to match and his lyrics will make you remember a time when songs could change the world, start a revolution or make you fall in love in 4 minutes flat.
February 13 – Elena Louvis
Elena Louvis is a 16-year-old sophomore at Cape Henlopen High School. Her love of music began in 5th grade when she started performing and playing piano/keyboard and guitar. She's a regular performer at local community events, as she is involved in the Cape Henlopen High School choir and Cape Chorale, and plays at local restaurants like J.D. Shuckers, the Milton Farmer's Market, The Wharf in Lewes, the Crooked Hammock and Abbott's Grill in Milford. One of her most prized experiences was performing at the Freeman Stage when she was just 14.
February 20 – Johnny Phatt
If you've ever spent any time in Dewey Beach, you've probably seen Johnny Phatt. He was the longtime bass player for local favorites Mr. Greengenes. Now, Johnny performs solo shows in the tri-state area, as well as playing in a few different bands. During the summer season, some of you may have seen him at The Starboard with Kristen (Kristen and the Noise) for their awesome Sunday night acoustic shows. So if your looking for a taste of summer fun, come out, grab a craft brew, and listen to Johnny play your favorite classic and modern tunes.
February 27 – David Ara
David Ara, a.k.a. Dave Nasty, is a modern singer-songwriter and electronic musician from Rehoboth Beach, Delaware. His natural sound can be attributed to elements of classic rock, folk, pop and various root music elements. David began playing the acoustic guitar at the age of 12 and began writing songs by the age of 16. From a young age, he was influenced by every song he came across. That theme continues today, as many of his live shows have the tendency to contain cover songs from more than six decades, along with his own eclectic original work.