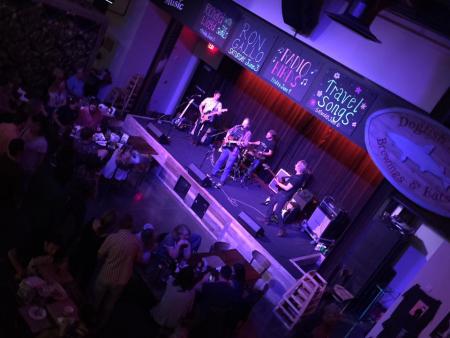 From up and coming young artists to more experienced musicians, we'll be featuring local music every Wednesday night from 7-9 p.m.!
Check out our January lineup!
January 2 – The Brews Brothers
The Brews Brothers are a local acoustic duo that plays a mix of classic, southern and alternative rock, with a little folk mixed in. Come out and enjoy a brew as you listen and sing along!
January 9 – Leah Kompare
Leah Kompare is an eleventh-grader at Cape Henlopen High School who participates in the Cape Chorale, Girls Choir and is a returning All-State Chorus member. She plays ukulele and sings songs ranging from Elvis Presley to Ed Sheeran. You're sure to enjoy her performance!
January 16 – Bryan Scar
Bryan Scar was born into a family with a deep love of music, a passion that he inherited at an early age. Bryan's first guitar was a flamenco guitar handed down from his uncle. As he moved in and out of various bands through high school/college, Bryan developed a unique songwriting style, drawing inspiration from John Denver, Billy Joel and Jim Croce. During this time, he also gained experience as a composer, thus mastering the song process from start to finish.
After one year of studying music in Los Angeles, California, Bryan returned to his home state of Delaware in late 2012 to start his journey as a solo artist. He draws his inspiration from America's countryside, his personal journey as an artist and events in history. Since 2013, he has released two albums, played numerous times on local radio/television stations and was nominated for the 'Best Local Artist' award in 2016.
January 23 – Homestead Bluegrass
What started in 2017 as a weekly jam night in coastal Delaware between five bluegrass musicians has morphed into a traditional five-piece bluegrass band.  Homestead Bluegrass credits their roots and influence to the early bluegrass pioneers, such as Jimmy Martin and Bill Monroe, but also enjoy pushing the boundaries of progressive-style bluegrass, country and classic rock. Members include Mark Sudimak (guitar/harmonica, lead vocals), Dawn Thompson (upright bass, vocals), Shawn Rineholt (mandolin, vocals), Don Schalter (guitar, vocals) and Casey Kenton (banjo).
January 30 – Manny Live!!
Manuel Tejeda (Manny) is a musician, songwriter, guitarist and bass player for the Tyler & Friends Band. He is also a solo artist from the Dominican Republic, and resident of Rehoboth Beach, Delaware. He says, "Growing up in the Dominican gave me a lot of rock fusion influence on the music I know today, mixing metal, grunge, rock and Latin music." Manny is looking forward to introducing a Tribute of Latin Rock … unplugged at Dogfish Head Brewings & Eats.