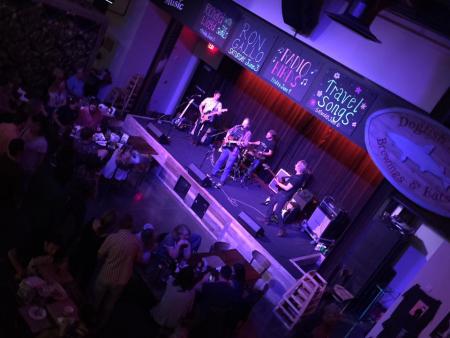 From up and coming young artists to more experienced musicians, we'll be featuring local music every Wednesday night from 7-9 p.m.!
Check out our December lineup!
December 5 – Cliff Hillis
Cliff Hillis is a hometown boy and a former member of the neo-power pop outfit Starbelly. While Cliff was playing in John Faye's backing band – the John Faye Power Trip – he began his own solo career. Drawing heavily from 90s alternative-flavored power pop acts like Matthew Sweet and the Velvet Crush for his ringing, guitar-driven classicist sound, Hillis issued his debut album, 'Be Seeing You,' on the power pop label Not Lame in the summer of 2001.
Cliff released a new six-song EP 'Many Happy Returns' through San Francisco's TallBoy Records on June 9, 2018. The title lightheartedly refers to Hillis revisiting his pop roots. This is most evident on the EP's kickoff track which boasts the same name, meshing sunny harmonies with a memorable sing-along chorus.
December 12 – Gerry Timlin
A great favorite in the USA and Canada, this Delaware-based singer has enjoyed success all over the world. He was born in County Tyrone, Northern Ireland, and that's where he developed an early interest in traditional Irish and folk music. From the beginning, Gerry displayed a musical talent, winning several singing competitions in Northern Ireland when he was still in his teens. He moved to the USA in the early 70s, and has been delighting audiences with his smooth baritone voice and his irreverent humor ever since. In 2014, he was honored to perform with his singing partner, Tom Kane, at the Congressional Friends of Ireland Luncheon on Capitol Hill for The President, Vice President, Speaker of the House, Prime Minister of Ireland and members of Congress.
December 19 – Seth Reynolds
At 15, Seth Reynolds is an up and coming musician on the Delaware music scene. He has played numerous venues ranging from the Freeman stage, to the Dogfish Head Brewpub, and has also been featured on WBOC's Delmarva Life. He plays a wide range of music, from country to classic rock and everything in between. 
December 26 – Matt Lafferty
The front man for the 'Pros from Dover,' Matt Lafferty is a local guitarist and singer that entertains with a mellow, acoustic mix of covers … playing everything from 60s and 70s tunes to today's top hits! Come on by and check out his solo set … you won't be disappointed!