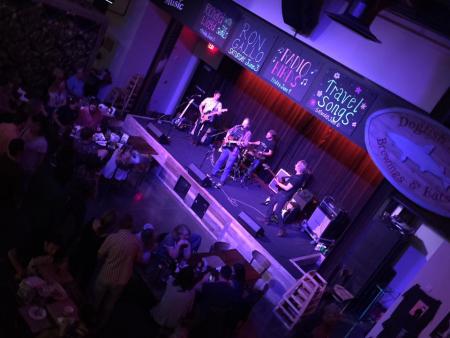 From up and coming young artists to more experienced musicians, we'll be featuring local music every Wednesday night from 7-9 p.m. ... and on December 4, Roy and Maddie Voshell takes the stage!
A bond formed in 1994, Roy and Madeline Voshell have been living through music since Madeline, the daughter in this father-daughter duo, was born. Roy, a lifelong musician, began his career as a trumpeter for James Madison University's marching band. From humble beginnings in Dover, Delaware, he began traveling with multiple elite musical groups. After meeting his wife, both employed at Disney World, Roy furthered his passion for music by performing with multiple bands and traveling across the west. Most recently known for his part in Giant Steps, a local Delaware band, Roy continues to appreciate the ability to share his talents with friends, family and strangers alike.
With a similar background, Madeline began her music career by playing the trumpet and piano during middle school and high school. It wasn't until college that she realized her real passion was in acoustic guitar and vocals. The duo has performed in bars from Dover to Milton, and are always anxious for another chance to share their love of performing and collaborating with others. Their music ranges from the styles of Credence Clearwater, Avett Brothers, Fleetwood Mac and many more. From old rock to bluegrass-y tunes, Roy and Madeline bring a warm, fun, easy-listening father-daughter duet to each performance.