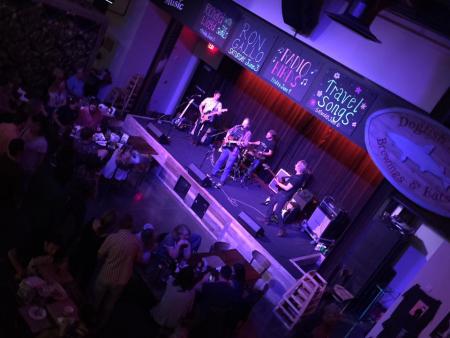 From up and coming young artists to more experienced musicians, we'll be featuring local music every Wednesday night from 7-9 p.m. ... and on November 20, Cathy Jane takes the stage!
Cathy Jane, an acoustic folk singer-songwriter living in coastal Delaware, blends a love of American folk and early country with soothing vocals, raw guitar and percussion using a suitcase kick drum. After a solid year of performing as a solo musician in Delaware, Maryland and Pennsylvania, she made her way into the studio to begin work on her first EP.
She began her musical journey singing at church and then helped form two gospel bands in which she sang background and played percussion. Over the course of a decade, Cathy Jane traveled to third world countries and Puerto Rico as part of a music ministry. "It was a humbling experience to reach out to a hurting world through music, especially seeing the joy it brought to the children."
It wasn't until age 58 that Cathy Jane stepped out on her own as a solo artist. Growing up in rural southwestern Pennsylvania, in a place called Scrubgrass Hollow, listening to her parents band playing country, folk and gospel music, she naturally gravitated to this style while teaching herself to play guitar. Desiring to have more sound than just a voice and guitar Cathy Jane adds percussion using a suitcase. "It's a bit of a balancing act playing guitar, harmonica, a suitcase kick drum and singing, but it feels natural for me. I never even considered making music without all of it."
Cathy Jane debuted her EP titled 'Back Home' on September 2, 2018. She was joined by fellow musicians, that also play on the EP, for an intimate show in her backyard. "I've enjoyed seeing how people have related to my music and I am so happy to put this EP into their hands." Cathy Jane's music has been influenced by artist such as Gillian Welch, Emmylou Harris, Kate Wolf, Eilen Jewell, Bob Dylan and John Prine.