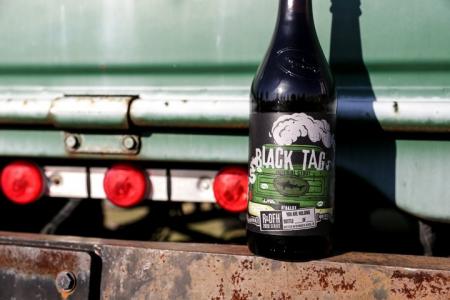 Get ready for another limited bottle release! Dropping on Saturday, January 25 at our Off-Centered EmPOURium in Rehoboth is Black Tag, a 10.1% ABV imperial stout.
Like the special, low-numbered license plates seen throughout our home state of Delaware, Black Tag is a singular ale of great depth … and it's just about as special as a beer can get! Created by co-workers Ryan, Corey and Bryan, this decadent drink was brewed with massive amounts of dark grains and generous additions of toasted coconut, dehydrated coconut powder and Tanzanian cocoa powder. Priced at just $16 each, there's only 140 (750ml) bottles of this brewpub exclusive available! Doors open at 11 a.m., sharp … don't be late!
And after you grab your bottle of Black Tag, head on in to the bar at Brewings & Eats to enjoy a glass on draft. That's right, folks – you won't even have to crack open your bottle to get a taste of this specialty sipper!